From its modest beginnings in 1871, the Jewish Home of San Francisco has grown and diversified to provide services for many different older adults with multiple and unique care and service needs and at various income levels. Operated by a 501(c)(3) nonprofit corporation, the Jewish Home serves approximately 1,200 patients and residents each year on its nine-acre campus. Non-residential care is offered through the Home's short-term and rehabilitation services unit for patients who require geriatric-specialized, interdisciplinary rehabilitation to recover from surgery or an acute illness, and through its acute geriatric psychiatry hospital. The Home is affiliated with the University of California, San Francisco for teaching and research. Admission to the Jewish Home is not limited by religious or cultural affiliation.
As a U.S. Centers for Medicare & Medicaid Services five-star rated facility and with a complement of more than 650 compassionate, experienced clinical and allied health personnel, the Jewish Home provides seniors with a variety of life-enriching healthcare programs and services in a welcoming, stimulating environment.
The Jewish Home is part of Jewish Senior Living Group, a growing regional network of programs, services, and communities that enrich the lives of seniors.

The 21st Annual Kung Pao Kosher Comedy™ – Jewish comedy over Christmas in a Chinese restaurant – takes place December 24 through December 26, two shows a day – 6:00 p.m. dinner show (7-course banquet); 9:30 p.m. cocktail show (vegetarian dim sum) – at New Asia Restaurant, 772 Pacific Ave., San Francisco's Chinatown.
Kung Pao 2013 features four well-know (and hilarious) Jewish comedians: Gary Gulman; Adrianne Tolsch; Samson Koletkar; and Lisa Geduldig.
Partial proceeds from this year's comedy shows benefit the Jewish Home's Esther Weintraub Comedy Clinic.
For tickets/information, go to KosherComedy.com. Tickets may also be purchased over the phone Monday – Friday, 9:00 a.m. to 4:00 p.m. at 925.855.1986. (No phone sales the Thursday and Friday of Thanksgiving.)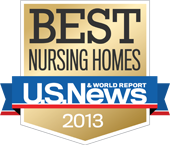 The five-star rated Jewish Home of San Francisco has been included in U.S. News Best Nursing Homes 2013. Using meaningful data and ratings from Nursing Home Compare, a website run by the federal Centers for Medicare & Medicaid Services about nearly every nursing facility in the United States, U.S. News's database highlights the highest-rated facilities in the country.