2007 Media Archive:
The legacy continues
At the Jewish Home's annual meeting in October, outgoing board of trustees chair David Friedman was presented with a series of baseball caps, each representing the many hats he has worn during his last three years of leadership. In turn, Friedman presented (or passed) the gavel to his successor, Mark Myers, the third of three Home leaders who followed their fathers into the board's top position.
Painting for Parkinson's
Collage-maker, sculptor and now painter, Jewish Home resident Deborah Friend puts her vibrant original collages up for sale Sunday, October 14 at the Home's Rosenberg Center. Proceeds from the sale go to the Michael J. Fox Foundation for Parkinson's Research.
The power of the spoken word – only this time it's Russian
Recreation coordinator Jean Santo independently takes on learning Russian to be able to converse with our Russian-speaking Alzheimer's patients, then heads for St. Petersburg, Russia, to test her command of the language – all for the sake of meeting the needs of Jewish Home residents, and giving them the care and attention they deserve and for which the Home is recognized.
#1 Story of the Year
J. staff writer Dan Pine names his favorite story of the year – and it's the one he wrote about the Jewish Home's comedy clinic!
Celebrate!
San Francisco Chronicle / June 19, 2007
J. Weekly / July 13, 2007
The opening of the Rosenberg Family Center – 55,000 square feet of new facilities, including a synagogue, kosher kitchen, creative arts studio, fitness center, 13 clinics, and a new center for research – was celebrated at the Jewish Home at an afternoon party on June 13 that included klezmer music, a torch song singer, and a cigarette girl wandering around offering "butterscotch, peppermints and Tums for your tsuris [troubles]." Barbara Rosenberg, David Friedman, and David's mom, Phyllis Friedman were among the hundreds of guests.
Age no barrier to art
Seventeen Jewish Home residents showcased their art at SF Women Artists Gallery, including that of 102-year-old Lucille Viargues.
Creation, connection, and companionship
Jean Soffa has been knitting for 92 years, ever since she was five years old. She continues to do so at the Home's weekly gathering of fellow knitters, crocheters, and needlepointers. For Jean, knitting is not only about creating homemade items and gifts; it is also a therapeutic exercise, an opportunity to be part of a group, and a form of comfort.
Jennie Rose celebrates her 104th – nobody at the Home tops that
Resident Jennie Rose celebrated her wonderful longevity with bagels and lox, schmeer and schmooze, and crowned it all with a huge birthday cake. Jennie moved into the Jewish Home shortly after she turned 101 – impressively into a living environment reserved for those residents who require minimal care and assistance, which is where she resides to date.
PazdravlyAyu & Congratulations!
Jewish Home residents and husband and wife, Yakov Kaminskiy and Germina Gurevich, have a long, shared history. Both were born in the same year – 1915; in the same place – Odessa, Ukraine. Both attended the Odessa College of Communication, where they first met; and both worked as engineers in their native Ukraine. They continue to share a record, having recently celebrated their 70th wedding anniversary.
Resident's personal story about Alzheimer's gets reissued
Alzheimer's disease activist and Jewish Home resident, Anne Bashkiroff's story about her husband's Alzheimer's has been reissued. Originally titled "For Sasha, with Love," it's now named "Forget-Me-Not."
A place to call "home"
When j. staff writer and columnist Dan Pine was looking for a rest home for his father, he learned that most nursing homes cannot boast the kind of care, services and facilities enjoyed by local Jewish senior residences – such as the Jewish Home – which he references as "models for the industry."
Jewish Home announces its plans for 899 Charleston in Palo Alto
Daniel Ruth, CEO and president of the Jewish Home of San Francisco, discusses 899 Charleston, a 193-unit senior community planned for the Taube Koret Campus for Jewish Life, and the realization of fulfilling the need for Jewish sponsored senior living services in the South Peninsula.
Art for a good cause
Resident Deborah Friend hopes to double the amount she raised last year for the Michael J. Fox Foundation at this year's Jewish Home art show and sale. Deborah, who has Parkinson's, will donate the proceeds from the sale of her original collages and sculptures to the Foundation.
2006 Media Archive:
Such good taste!
J. Weekly / September 22, 2006
The more than 550 guests who attended Someone's in the Kitchen 2006, a fundraising benefit for the Jewish Home of San Francisco, good taste was not just in being at this A-list event, but also in the amazing three-course dinners prepared by 39 chefs. The crème de la crème extended to one of the desserts, too – pumpkin crème brulee!
Dedicated supporters Barbara and Richard Rosenberg dedicate new building
J. Weekly / September 22, 2006
The new Barbara & Richard Rosenberg Family Center was dedicated earlier this month. The newest addition to the 135-year-old Jewish Home, the center includes a geriatric research center, state-of-the-art kosher kitchen, clinics, a wellness center, and a new synagogue.
Getting 'loose' on laughter
Tuesday nights are comedy improv nights at the Jewish Home. The brainchild of local standup comic and Kung Pao Kosher Comedy maven Lisa Geduldig, the Esther Weintraub Comedy Clinic (named for the late Jewish Home resident who launched a late-in-life standup comedy career) has residents engaging in lots of funny stuff and sharing the gift of laughter. It's the best medicine!
Rosenberg Family Center nears completion
The plan is for a September ribbon-cutting at the Barbara & Richard Rosenberg Family Center – a major upgrade on the Home's campus. The center will house a new kitchen (with the ability to cook 1,300 meals a day), health clinics, research and meeting areas. The costs of construction have been met by the Home's ongoing capital campaign and magnificent fundraising efforts.
Experts discuss advance health care decisions
Jewish Home's director of Medical Services, Dr. Jay Luxenberg, and the Home's Rabbi Sheldon Marder joined a panel of experts at a community forum in Palo Alto to discuss making advance health care decisions now for the future. Co-sponsored by the Jewish Home and the Jewish Community Center of Palo Alto, Dr. Luxenberg addressed the current wisdom about end-of-life decisions, while Rabbi Marder spoke about the historical basis for traditional Jewish beliefs.
Art for health's sake
Talented Jewish Home resident artists took their creations on the road, or, more aptly, on display at Flax art supply store at Market and Valencia Streets in San Francisco. The exhibit includes works by resident artist Dina Loeva, whose painting has been chosen as the poster art advertising the Home's three-month-long 2006 Summer Arts Festival.
Jewish Home resident is an "all star"
Deborah Friend, a resident at the Jewish Home, has been invited to join The Michael J. Fox Foundation's Team Fox as a Team Fox ALL STAR. Team Fox is the Foundation's grassroots community project that raises funds and awareness for Parkinson's disease research.
2005 Media Archive:
"Miraculously" the show did go on
The Jewish Home's residents had just finished entertaining the audience with their hour-long annual holiday show when the power went out – at the same time as the Home's rabbi was lighting the first candle of the holiday. For most of the audience, it merely seemed part of the festivities, but for those in the know, it was tantamount to a miracle.
Let us take you "Around the World in 60 Minutes"
Come celebrate with us! The Jewish Home's annual holiday show, "Around the World in 60 Minutes," takes place at the Home at 2:00 p.m. on Sunday, December 18 and 7:00 p.m. on Wednesday, December 21. A celebration of cultural diversity – and a showcase for our wonderfully talented (and humorous) residents, contributions support residents' recreational, spiritual, and therapeutic programs.
Tribute to Alice Reiner, founder of Jewish Home program
Alice Reiner, founder of the Jewish Home's Forsake Me Not program – which assigned couples in B'nai Brith to a senior at the Home whose family lived far away – died at the age of 87 on December 3, 2005 in San Francisco. A dedicated, involved member of the community, Alice chaired and organized the program in collaboration with the Home's volunteer services staff.
Koret, Taube jointly award Palo Alto campus $15 million
The project for the future home of the Palo Alto JCC, a Jewish Home for seniors, and other Jewish organizations has been awarded one of the largest lead gifts ever bestowed upon a local Jewish endeavor - a combined grant of a $7.5 million donation from the Koret Foundation and the same amount from the Taube Foundation for Jewish Life and Culture. Now named the Taube-Koret Campus for Jewish Life, it is intended to fulfill a vital need in the South Peninsula and beyond.
"Ride for the Ages" begins at Jewish Home
It was fitting that the Jewish Home [for the aged] was selected to host the ceremonial start of 59-year-old social worker Andre Louis' solo coast-to-coast cycle ride, which he has named "Ride for the Ages." This fund-raising venture is designed to raise funds for the Inpatient Hospice and Palliative Care unit of the Margaret Teitz Nursing and Rehabilitation Center in Jamaica, N.Y., where Louis has worked for the past 24 years.
Venturing into cyberspace
Whether they use the Internet to stay connected to life and link up with loved ones, or do Web-based research and join interest groups, seniors in retirement communities find their experiences in cyberspace stimulating, positive, and often awe-inspiring.
Proof that learning and growth are possible at any age
What do you do when you're 90, 84, 77, or the youngest of the group, 75 years of age? Why, you become bar or bat mitzvah, which is what four residents of the Jewish Home accomplished on April 30, 2005. After having studied for more than a year with the Home's Rabbi Sheldon Marder and Linda Posner, a volunteer tutor, Irving Grossman, Edith Sadewitz, Dulcenea Martinez, and Grace Blum achieved this Jewish rite of passage. Thus touching all those around them with their commitment, belief, and ties to the Jewish people and to their community.
Art goes country
Talented resident artists Deborah Friend, Carl Rothblum, Rudi Hooremans, Gloria Houtenbrink, and Irving Grossman had Yoffi Farm, the Santa Rosa ranch of Martin and Marlene Stein – dedicated supporters of the Home and hosts supreme – as their gallery recently. The artists joined Jewish Home President and CEO Daniel Ruth, major donors to the Home, guests' children and grandchildren at this Sunday picnic. The event was organized by the Presidents Circle (of whom the Steins are chairs) as a thank-you to our major contributors.
What's in a name?
The Jewish Home's Rabbi Sheldon Marder creates and performs a naming ceremony for Peter Neubauer, son of 93-year-old resident Erna Neubauer.
102-year-old resident still in full flower
The passion and energy that Jewish Home resident Bess Bergman, 102 years young, displays for working on her paintings of flowers each day in the creative arts center at the Home make her a perfect candidate for Videolink, a program funded by a grant from the Kanbar Charitable Trust of the Jewish Community Endowment Fund. Videolink uses digital media as a form of therapy and entertainment for the Home's residents. Bess has been captured on camera over a period of several weeks, as she paints and talks about her life.
A taste of a wedding
The Home's Rabbi Sheldon Marder and the soon-to-be-married grandson of Jewish Home resident Mary Bader Nagan (97) come up with the novel idea of staging "almost a wedding" at the Home. In this way, Mary, who can't travel to the July nuptials, can still be a part of the occasion and "see" her grandson get married.
For the Good of Our Home
Fair Wages, Comprehensive Health Care, Fiscal Responsibility
J. Weekly / March 5, 2005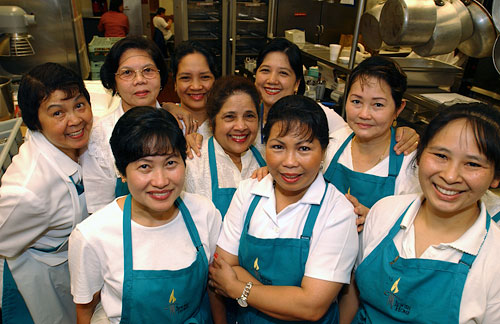 Dear Friends:
I am pleased to share some good news with you. The Jewish Home, one of the premiere nursing home facilities in the Bay Area, has reached a three-year contract agreement with SEIU United Healthcare Workers-West, which represents nearly half of our employees.
Through hard work on both sides of the table, the ratified contract agreement protects the good wages and excellent benefits our employees receive, while at the same time begins the difficult process of addressing the underlying financial challenges facing the Jewish Home.
With this labor negotiation now behind us, we would like to re-affirm a few key facts about the Jewish Home and the people who work here:
Our employees are the best in the business.
Our employees are deeply committed to providing the highest level of care and service to our frail elders.
Our employees are dedicated and compassionate in meeting the diverse needs of our residents and their family members.
For nearly 135 years, the Jewish Home has fulfilled our community's promise to care for the frail elderly. We're satisfied this contract agreement takes steps towards ensuring the future of the Home. However, there will continue to be challenges that we must address. Over the next several months, we will be developing strategies and partnerships to further ensure we continue the standard of excellence you have come to expect from us, both now and in the future.
Now that we have a contract, the Jewish Home and our employees can focus on doing what we do best – providing quality care to our elderly residents.
Thank you for your interest and continued support.
Thinking About Tomorrow
Three Jewish Home residents, Raymonde Cohen, Ben Lubitz, and Rudy Hooremans, share their wishes and hopes for the coming year.
2004 Media Archive
Singing a new song
Elders make music from psalms, beliefs
As part of the Jewish Home's weekly "Psalms, Songs and Stories" program, residents compose songs after their study of particular psalms. For the Home's Rabbi Sheldon Marder, it is an opportunity to provide pastoral care; for singer-songwriter Judith-Kate Friedman, it's a songwriting group; for the residents it's a time to be creative, spiritual, and involved.
'Play it cool'
Couple's secret to 75 years of marriage
Philip and Jean Soffa, residents of the Home, celebrate their diamond anniversary, and reveal that being best friends is a requisite for the longevity of their marriage.
Blindness no barrier to Jewish Home writer
Although Jewish Home resident and writer Frances Neer has been blind for years, her creative spirit and active mind shine brightly. It's easy to see why she named her latest book, her autobiography "Too Busy to Die." This is her fourth published volume (she wrote a trilogy about blindness) and there are others on the way. Her future projects include an anthology of stories about food, human foibles, and family.
Three who make a difference:
Active lives keep residents at Jewish facilities youthful
Deborah Friend's life may have changed when she developed Parkinson's disease, but she's also making a difference to others. Now a resident of the Jewish Home, Deborah created a Parkinson's support group at the Home. She also applies her newly-acquired computer skills to arrange for all the speakers and facilitate the monthly meetings. But the bulk of her time is dedicated to creating a Parkinson's commemorative stamp to aid awareness of the disease and an eventual cure.
Special honors for special people…
A new award—"The Rothblum Citizen Award"—has been created at the Home. It will be bestowed annually by the Council of Residents, honoring a resident who has made ongoing contributions to the betterment of the life of fellow residents. The first honoree is Carl Rothblum, after whom this tribute is named.
Jewish Home geriatrician ponders the difference between forgetfulness and dementia
Dr. Jay Luxenberg discusses memory loss
The Home's director of Medical Services, Dr. Jay Luxenberg, talks about various types of memory loss, some causative factors, the functioning of the brain, the possibility of preventive measures, and the potential usefulness of some drug treatments.
Jewish Home plans extreme makeover
Building for the future
The Home launches a two-year construction project that involves the demolition of an entire wing, followed by the construction of state-of-the-art medical clinics, a new modern kosher kitchen, a health and wellness clinic, synagogue, arts center, and geriatric research center.
'We are family here'
Staff, volunteers fill gaps at Jewish homes
With a core of active volunteers, a full-time rabbi, and a companionship program that pairs elders with youth, many seniors who move into the Home from their own apartments—where they may have been socially isolated—get a new lease on life.
Jewish Home adds Chinese medicine to the menu
Residents of the Home enthusiastically embrace its new integrative medicine program, combining traditional and Eastern approaches. Funded with a grant from the Jewish Community Endowment Maimonides Fund of the S.F.-based Jewish Community Federation, the program has been so successful that program director, Kaylah Sterling's schedule is normally completely booked and there is a waiting list for treatments. These include acupuncture, cupping, and moxibustion, the burning of specific herbs around an acupuncture point.
Cook's Night Out: George Donellan
San Francisco Chronicle / March 28, 2004
Executive chef of the Jewish Home, George Donellan, discusses the challenges of providing meals for 430 residents and nearly 650 employees, while reviewing a city restaurant.
"Someone's in the Kitchen"
San Francisco Chronicle / March 14, 2004
The Home's inaugural signature gala event, "Someone's in the Kitchen" drew almost 500 attendees. Thirty chefs each cooked for one table of 16 guests, all under a big tent on the grounds of the Home.
2002–2003 Media Archive:
KALW Chanukah Show radio broadcast
KALW-Radio / December 20, 2003
Mp3: 5.7Mb, running time: 24:21
In tune with Hanukkah
San Francisco Chronicle / December 6, 2002
Sing-along lights up home for elderly
Pinpointing Pain
San Francisco Chronicle / September 29, 2002
Students bring acupuncture to San Francisco's Jewish Home
Nursing Home Offers Residents Acupuncture
Folksinger stirs seniors' creativity. They write their own songs of hope
San Francisco Chronicle / August 2, 2002
Profile: Judith-Kate Friedman