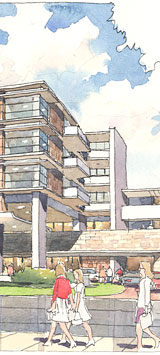 The Home's sponsorship of Moldaw Family Residences at 899 Charleston, a new concept in senior living has been developed on the Taube Koret Campus for Jewish Life in Palo Alto.
The Home, as with other non-profit healthcare operations, is exploring and developing revenue-generating opportunities and collaborative partnerships that support its viability and assist with planning appropriately for its future.
The Home is examining its organizational structure and associated governance so as to match the needs of the organization for effective management today and into the future.
The Home is exploring new opportunities to extend and enhance the value of research, as well as collaborative relationships in teaching and education to raise the quality of care and life for older adults to a new level of excellence.
The Home is developing a strategic plan that is fluid and dynamic, that will be reviewed, evaluated, and updated periodically to reflect the ever-increasing changes that have an impact on the delivery of care and services to older adults, and specifically those relevant to the Home and the residents and family members it serves.