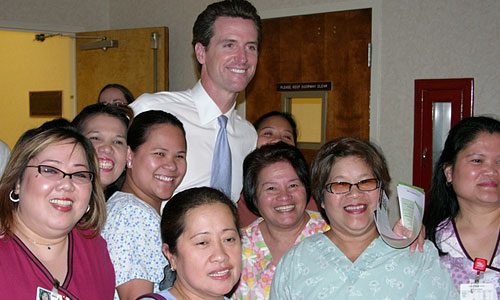 Pictured with Mayor Newsom are, from l. to r., CNAs Arminda San Pedro, Josephine Swin, Ruby Velasquez, Zenaida Ferrer (front), Darlina Bulanadi; nursing staff coordinator Rowena Roxas (partly obscured); CNAs Rita Manubag and Carmelita Fajardo.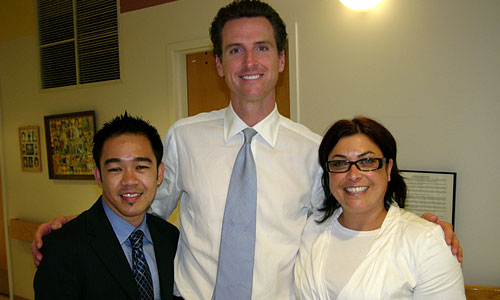 Mayor Newsom was accompanied on his tour of the Home by chief nursing officer Edwin Cabigao and chief administrative officer Sandra Simon.
The mayor admired the synagogue ("beautiful, modern"), popped into the garden café and looked out over the fountain and courtyard area ("This is nice," he remarked), observed therapy sessions in rehab, saw residents working out in the Herbst Fitness Center, viewed the Eugene Friend & Julian Davis Creative Arts Center and gallery, noted Nutritional Services enjoying their appreciation luncheon in the Lynne & Roy Frank Family Lounge, and was impressed by the Home's 13 on-site clinics.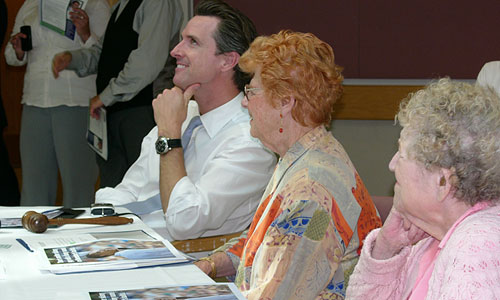 Mayor Newsom at the Council of Residents meeting, with Council president Edie Sadewitz (center) and treasurer Clair Shor.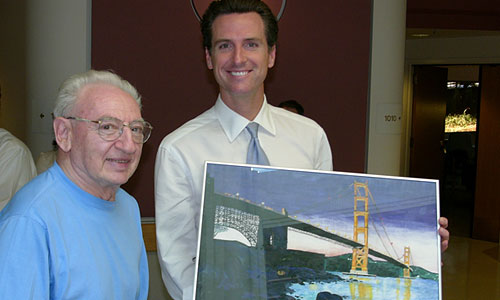 Jewish Home resident Rudy Hooremans made a gift of his original painting of the Golden Gate Bridge (created in the Home's Eugene Friend & Julian Davis Creative Arts Center) to Mayor Newsom.