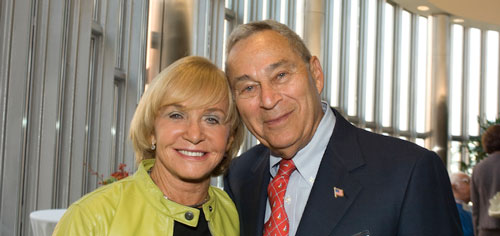 Barbara and Richard Rosenberg
On September 11, the Barbara & Richard Rosenberg Family Center, the Jewish Home's newest building, was dedicated to the care of Bay Area seniors. Thirteen clinics occupy the first floor of this 55,000-square-foot facility, giving the Home's approximately 400 residents on-site care ranging from dentistry and audiology, to acupuncture and massage. An innovative research center for the study of aging issues is based on the second floor. A new kosher kitchen replaces the one constructed in 1923 when the Home had only 125 residents. A subterranean tunnel connects the kitchen to the adjacent buildings housing residents, enabling thousands of meals a day to arrive in the residents' dining rooms quickly.
The opening also marked the conclusion of the Home's successful Comprehensive Campaign, "Fulfilling Our Promise" – a $55-million fundraising effort, the largest in the Home's history. The funds supported the construction of the Rosenberg Family Center and expanded the Home's endowment so that it can continue its 137-year tradition of caring for those in need.
"This is an important building," Richard Rosenberg said. "It may seem strange that we chose September 11 to dedicate it. But as we recalled the fifth anniversary of that day, we felt it was a way to pay tribute to those who perished, as well as to those who survived. Life is precious to young and old – as evidenced by the work of the Jewish Home."
Photos from the Opening and Dedication
Click for larger view
| | |
| --- | --- |
| L. to R. Barbara & Gerson Bakar and Richard Rosenberg | Barbara Rosenberg and Edie Sadewitz (president, Jewish Home's Council of Residents) |
| L. to R. Phyllis Cook (executive director, Jewish Community Endowment Fund), Phyllis Friedman and Jerry Levine (Jewish Home's executive director emeritus) | Paul May and Frank Stein |
| Tom Dine (CEO, Jewish Community Federation of San Francisco, the Peninsula, Marin and Sonoma Counties) and Victor Marcus | David Friedman (2004 - 2007 chair, Jewish Home board of trustees; chair, Comprehensive Campaign) and Arlene Krieger (chair, board of trustees, Jewish Home and Senior Living Foundation) |