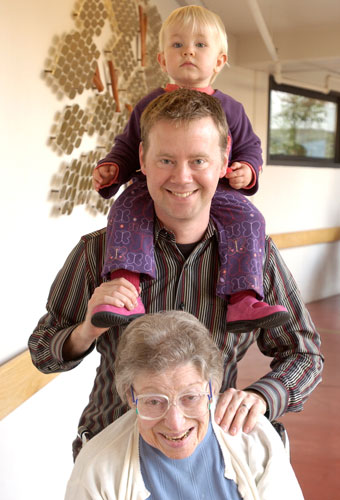 Three generations in front of the
Tree of Life.
Multiply the Impact of Your Gift!
Many companies match charitable contributions made by their employees or employees' spouses. Matching programs can double – sometimes triple – the value of your gift.
Tributes to Friends and Family
Those who wish to honor an important occasion or the memory of a loved one are invited to use the Home's tribute card service. With a gift of $18 or more, the Home sends a beautiful card, created from art produced by our residents, to the individual who should know of your generosity and caring. With a $100 donation or more, the loved one's and the donor's names are inscribed in Home's Tribute Book.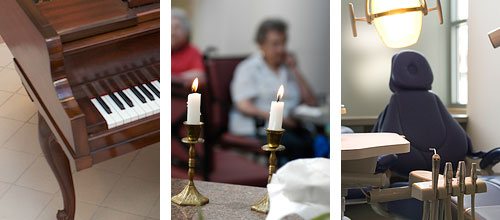 Unrestricted gifts to the Jewish Home enable us to direct funds to the areas of greatest need, and to continue to develop innovative programs to meet current challenges.
Programs such as creative arts, music concerts, Jewish holiday and Shabbat services, and state-of-the art medical equipment would not be possible without the support of our community. With thanks to your meaningful generosity, the Jewish Home will continue to be the special place our community has known and trusted for over 140 years.
The following giving levels recognize donors for their cumulative gifts during the fiscal year.
Guardians: $1,000,000 +
Platinum Circle: $100,000 – $999,999
Hope Circle: $25,000 – $99,999
Builders Circle: $10,000 – $24,999
Presidents Circle: $5,000 – $9,999
Gold Circle: $2,500 – $4,999
Silver Circle: $1,000 – $2,499
Honor Circle: $500 – $999
Mitzvah Circle: $100 – $499
Chai Circle: $1 – $99
All donors who give $1,000 or more to the Annual Fund receive distinctive benefits, such as executive updates, invitations to special events, and expert briefings. Their names are also listed on the donor walls that grace our various buildings' lobbies.
The Tree of Life
The Tree of Life is a beautiful wooden sculpture that hangs prominently in the Jewish Home. Each leaf on the tree bears an inscription as a tribute or memorial to a loved one. Leaves may be purchased for a $1,200 gift to the Home. A certificate acknowledging the Tree of Life gift is provided to the donor or sent to the honoree, as directed.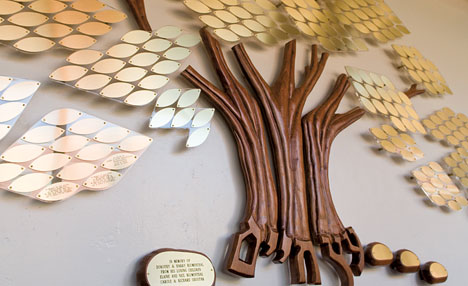 "The Tree of Life is such a meaningful image. I wanted to remember my dad with a leaf on a tree at the Home because it felt so good to have Dad living in a place where he received such wonderful care from a very warm, friendly, and caring staff. The leaf helps me remember the quality of his life with all the Home's superb activities, and all the precious time I was able to spend with him."
Sponsoring Birthday Celebrations
With a contribution of $613, you can support this joyous event and ensure that our residents – the people who are very dear to all of us – celebrate their special days in style. As the birthday host, you are honored as well, receiving eight invitations so that your family and friends may attend to celebrate with the residents. There is live music, a raffle, even some dancing and, of course, an opportunity to join in the singing of "Happy Birthday."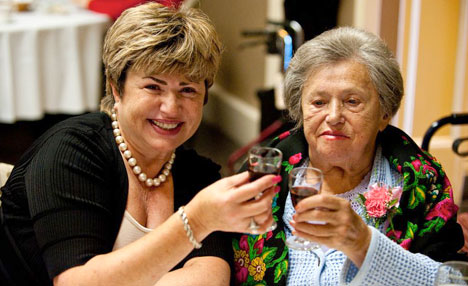 "My late mother-in-law, Lucille Gabriel, introduced me to the Home in 1968. She always sponsored birthday luncheons, which are so meaningful for the residents. It's been a great joy for me to continue this sweet, longtime family tradition."