Regardless of residents' financial resources, the Jewish Home provides unparalleled medical care and a high quality of life in an environment that promotes dignity.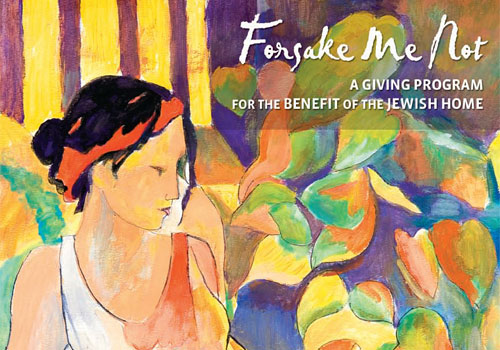 While a resident of the Jewish Home, Dina Loeva created this beautiful painting in the Home's creative arts center.
The Jewish Home Difference
On-site physicians attend to residents and meet individual needs for medical care. Older adults in other care facilities must travel to see a doctor, and it is likely that they will be able to see a physician only about once a month.
The Jewish Home is blessed with a large core staff of longtime caregivers. Many facilities have a high employee-turnover rate – some as high as 50 percent or more a year. The average length of tenure among nurses and caregivers at the Jewish Home is nine years.
Very few California nursing homes provide on-site clinics. In addition to its many services, the Jewish Home offers, among others, on-site eye care, dentistry, physical therapy, cardiology, podiatry, and therapeutic massage. Therefore, instead of having to travel off-site and then wait to be seen and cared for by strangers, residents remain safely and comfortably at the Home for their treatments.
It would be difficult to find another facility that offers its residents a comparable range of life-enhancing programs that are centered on the arts and Jewish culture (including the option for kosher food), and benefits such as the on-site beauty salon. The goal is to keep residents busy and involved in life. The positive results of these programs and enhancements are heard in the buzz of conversation and laughter that fill the corridors of the Jewish Home, and are evident in the ever-changing displays of residents' artwork throughout the campus.
In these ways, and in so many more, the Jewish Home sets the standard for excellence in senior care.
Ensuring Compassionate Care – Today and Tomorrow
As a nonprofit organization, the Jewish Home relies on community generosity to maintain the high standard of its care and services. Contributions ensure that the Home will be able to continue serving the body and soul of our community's elderly.
Many of our long-term care residents face medical challenges that are more complex than at any other time in history. Care now requires a broader range of treatment, including clinical and psychological services. The cost of providing for those needs can be prohibitive. While some residents are able to afford these services, approximately 96 percent of the Home's residents receive some form of financial assistance from the government – assistance that has become increasingly unreliable and difficult to predict. The Forsake Me Not program of the Jewish Home is a major gifts initiative designed to help underwrite that portion of care not covered by other funding sources.
That is why the Jewish Home has launched Forsake Me Not, a major gifts initiative to underwrite that portion of care not covered by other funding sources.
Your charitable gift to Forsake Me Not will enable our residents to continue their lives in a manner characterized by compassion and dignity. It will give them a secure home, help them hear better and move more easily, and nurture their spiritual needs. Your gift is truly g'milut chasadim – an act of loving kindness.
So please, give generously. Your kindness and generosity will be returned in so many respects.