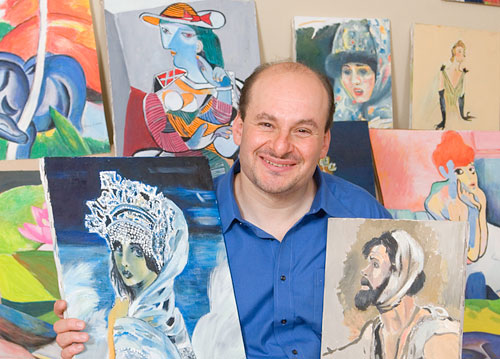 Dina Loeva's son, Robert, surrounded by his mother's artwork.
She lived a full life. Born in Kiev just prior to World War II, Dina fled with her family to the Ukrainian countryside to escape the Nazis and the tragic fate of those Jews who remained in the city.
After the war she returned to Kiev, where she studied art and photography. In the late 1970s Dina, her husband, and their son, Robert, were permitted to immigrate to the United States, and the family settled in New York.
Eventually Robert, (now an engineer at Hewlett Packard), moved Dina to California. Although Dina valued her independence, it was diminishing because of declining health. Still, she continued to live alone, refusing to move into an assisted living facility or a nursing home. A diagnosis of severe congestive heart failure changed that.
"I wish I could have convinced her to move to the Jewish Home earlier," Robert says. "She was so happy there."
When Dina finally did move to the Jewish Home in 2005, her life took a new course. This is what Robert wrote about her:
"She became very active artistically and made many friends among the residents and the staff. Thanks to the friendly and professional staff, and the unique facilities, she painted several dozen reproductions and portraits. Every day was a gift. It was as if she found a new extended family once again after many years of isolation.
"My mother got to see her granddaughter, Rachel, grow from a toddler to become a cheerful and intelligent little girl who loved her grandma and her paintings. Many of my mother's paintings still hang in Rachel's room.
"Life can truly be a sacred and beautiful thing, with help from the Almighty, hard work, and the love of people."