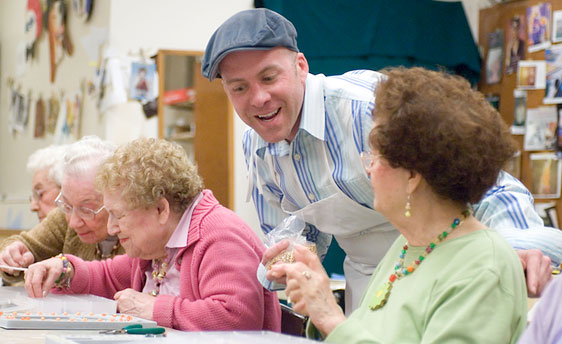 Students interested in gaining experience in the fields of gerontology, nursing, recreational therapy, social work, physical therapy or occupational therapy can learn from our staff of highly trained professionals and earn school credit for their time.
We offer opportunities for friends and families to volunteer together, thus increasing and enhancing that important time you spend with loved ones.
You'll enjoy coming to our light-filled facility, with landscaped gardens, boutique, garden café, and state-of-the art equipment.
Join our team of Jewish Home volunteers!
Requirements of a Jewish Home volunteer:
Must be 12 years of age or older
Obtain parental consent if under the age of 17
If over the age of 18, complete a release authorization for a criminal background check
Serve a minimum of 40 hours
The process to become a volunteer is easy:
Complete an application
a. If you are 18 years of age or older,
please click on this link to fill out your application
b. If you are under the age of 18,
please click on this link to fill out your application
Meet with volunteer service staff for a personal interview
Decide with staff on the area in which to volunteer
Attend a new volunteer orientation
Pass a tuberculosis (TB) screening
The benefits:
Volunteers learn new skills, earn school credit, gain professional expertise, and make new friends
Additionally, volunteers:
Ride the Home's free shuttle from and to BART, or the Home's off-site parking lot.
Receive a complimentary annual flu shot
Receive a letter of reference