These young women are part of a new work-study program, which partners the Jewish Home with Immaculate Conception Academy (ICA), and provides them with their first steps in becoming a certified nurse assistant in California.
According to Arlene Jech, who heads the program for ICA, with the Affordable Care Act ramping up, some 5,000 nurses will be needed nationwide to fulfill the needs of patients. Now in its second season, the work-study program offers students from this all-girls' San Francisco high school who are interested in medicine a chance to learn some of the nitty-gritty of nursing.
The program was initiated at the request of the head of nursing at the University of San Francisco, and is aimed at allaying the shortage of nurses, particularly those from low-income, ethnically diverse populations. It was developed by Father Tim Godfrey, a nurse at USF, and funded by an ICA graduate. Arlene, who recently retired after a long and varied career in the field – including a place on the team that surveyed the Jewish Home's nursing services – was hired to direct and teach it. During her survey visit to the Home, she was so impressed with the staff and services that, "I and Father Godfrey went hat in hand to Edwin Cabigao, the Jewish Home's chief nursing officer, to ask if we could do our clinical portion of the program there," she relates.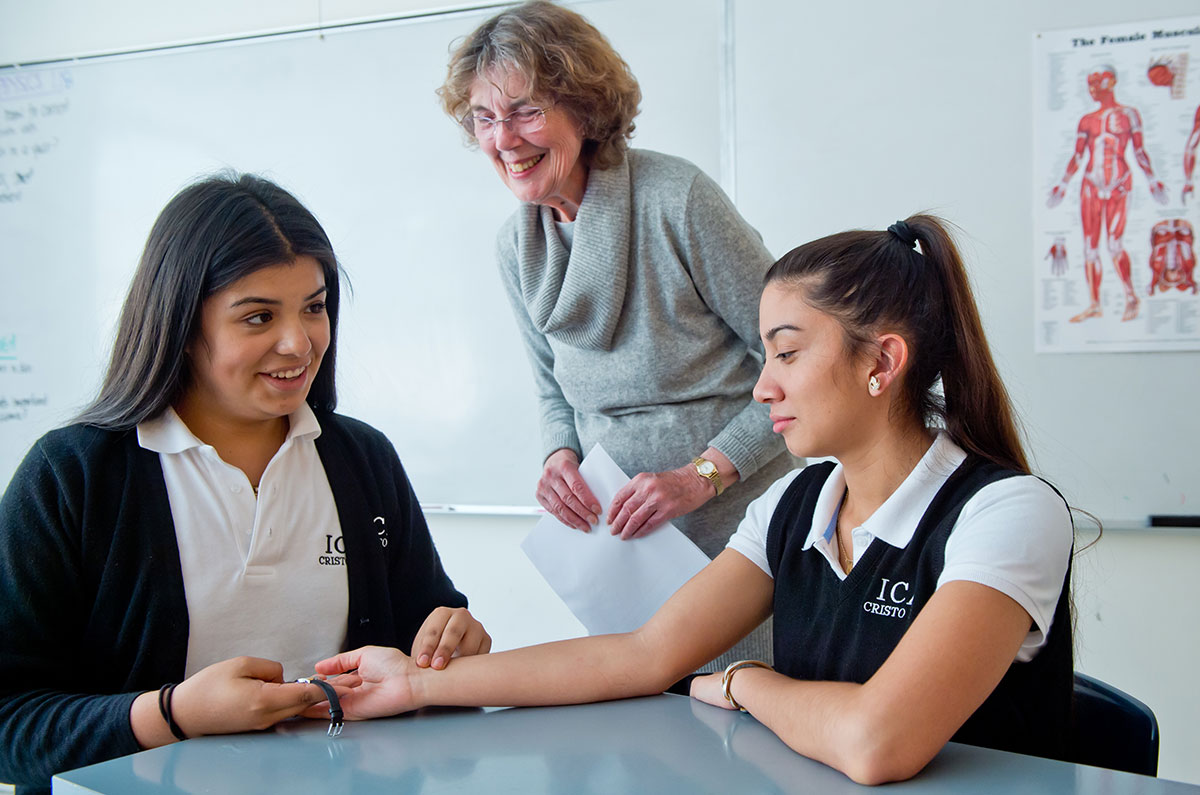 The course includes a rigorous five weeks of classroom learning that takes place in the summer between the students' sophomore and junior years, followed by 125 hours of clinical experience on Saturdays at the Jewish Home. Students must have a B average to qualify for the program and be sufficiently motivated to waive their summer vacations and Saturdays for most of the following year.
The students learn about patients' rights, laws, roles and responsibilities of the nurse assistant, and emergency procedures, plus anatomy, physiology, and nutrition. They also practice tasks such as feeding, bathing, and ambulating patients on one another, before beginning their clinical practice on real patients.
Cynthia Ruiz, 17, and now a senior at ICA, is one of the graduates of the course. "I thought the course would be a good way to experience the medical field and to find out if it was a fit for me," she explains.
It is important for the young women to let go of the movie image of a nurse before going into the field, Arlene makes clear. "It's not holding a dying man's hand, looking beautiful, with an adoring doctor looking on. It's about emptying bedpans and other not-so-glamorous duties."
For example, Cynthia learned directly that a person may not initially be amenable to undergoing a protocol. "One resident reminded me a lot of my grandma and so I'd spend a bit of time with her when I was done with my assignments. She eventually trusted me enough to let me check her blood pressure," she recounts.
At first, communicating with the Jewish Home's Russian-speaking residents was somewhat intimidating for the Hispanic, Filipino, Caucasian, and African-American students who comprise the group, but with a list of some commonly used Russian words in hand and after spending time together, the barriers were lifted. "We also used hand gestures and paid close attention to facial expressions," Cynthia adds.
"Communication is more than words," confirms Arlene. "The students feel it's special that they get to be connected with older people and to help them."
The first class graduated in April 2015 and a second group is now underway. "This course made me realize that I definitely do want to be a nurse," Cynthia vouches. "I want to work closely with patients and create that bond and trust."
"It's a good program," Arlene sums up. "And if you're interested, nursing is a really good profession."