These Monday morning showings began when Stephen Heffner moved into the Home in March 2016, bringing along his personal collection of all the show's seasons – and heaps of personal humor.
It is just one of the ways he finds to enjoy his new life.
Steve moved to the Home from Boca Raton, Fla., where he had retired as a CPA in New York City. Although he had an aide with him for 12 hours a day in Boca (in 1997, when he was just 54, he had a stroke that left him with his left side paralyzed and using an electric wheelchair), he felt quite isolated in his retirement community apartment. "I knew I needed more," he explains.
Both his one son, Mike Heffner, and daughter, Wendy Heffner, live in the Bay Area; his other son, Neil, lives in Colorado. All three offspring urged their father to move to California and the Jewish Home, where, they promised, his quality of life would be hugely enhanced, and he would be near two of his children and grandchildren, to boot.
"I'd heard good things about the Jewish Home from friends who knew about it and I visited it a couple times," says Wendy. "The staff was so wonderful. I felt like they understood what we were going through emotionally. It felt as though we were being invited into a community."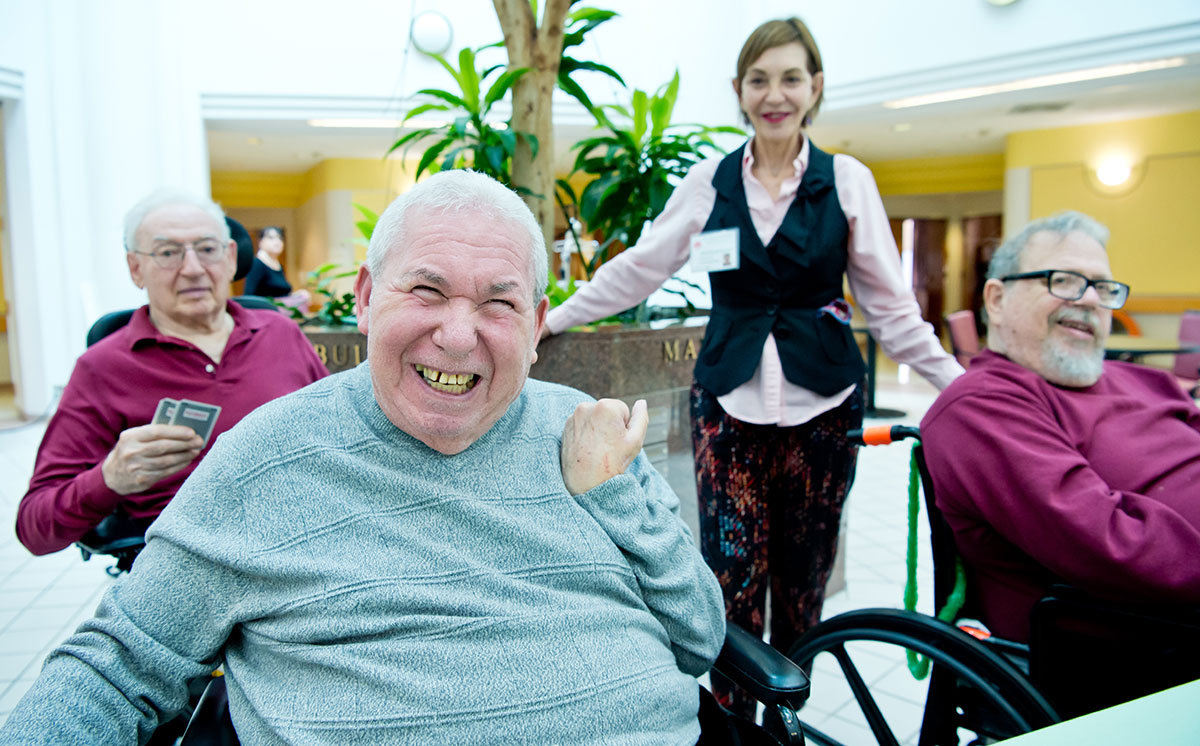 Steve is now fully ensconced in that community, participating in every activity he can. He plays poker and Wii bowling, and makes a point, whenever possible, of sitting next to people he does not yet know and chatting with them. A lover of jokes, he displays his knack for joke-telling and improv at the Home's regular comedy clinic. He is a key player in the group crossword puzzle game and particularly enjoys the weekly talks given by the Home's Rabbi Sheldon Marder.
"Dad is a very social person," affirms Mike. "I notice him interacting with the nursing and support staff, as well as the residents. I see him as much happier."
"I'm social by nature," Steve agrees. "I made up my mind to be as friendly as I can." He is enthusiastic about his rehab as well. "Aida Gonzales, who runs it, is phenomenal," he raves. "She's so empowering, so encouraging."
Mike and Wendy are pleased with how well their father has adjusted to life at the Home. "Before he moved here, he hadn't seen my daughter in three years," Mike says. "Now he can see her a couple times a month."
Wendy and her partner, Sylvie Minot, are able to visit frequently too, sometimes taking Steve to dinner, and even, Steve reveals, "smuggling in contraband – a corned beef sandwich." Sylvie, who is a professional dancer and teacher, has now added to the Home's quotient of activities designed to increase residents' enjoyment and well-being by starting a music and movement group.
All in all, believes Steve, his decision to make the move to the Home was a very good one indeed.