Having studied what people around the world were doing, Kyle Ruth-Islas, the Home's assistant administrator and technology advocate, wondered, "How can we inject new technologies that make our staff's life easier and increase the level of engagement of our residents?"
He got help answering the question from Monica Wong, one of the IT department's business systems analysts and project manager. As the middle person between vendors, IT and the Jewish Home, Monica met with Kyle and Mediatrix Valera, director of Life Enrichment, and together they brainstormed. Once they knew what they wanted from a product, Monica talked to vendors. "It was an easy decision," she says. "Surface Pro did everything we wanted and it worked with the Jewish Home's existing technology."
For Mediatrix, this is an important advance. In her 21 years working at the Jewish Home, the staff has kept records of each resident's participation and progress in recreational activities – first writing narratives by hand, then using standardized forms filed in binders, and most recently by inputting the data into a computer.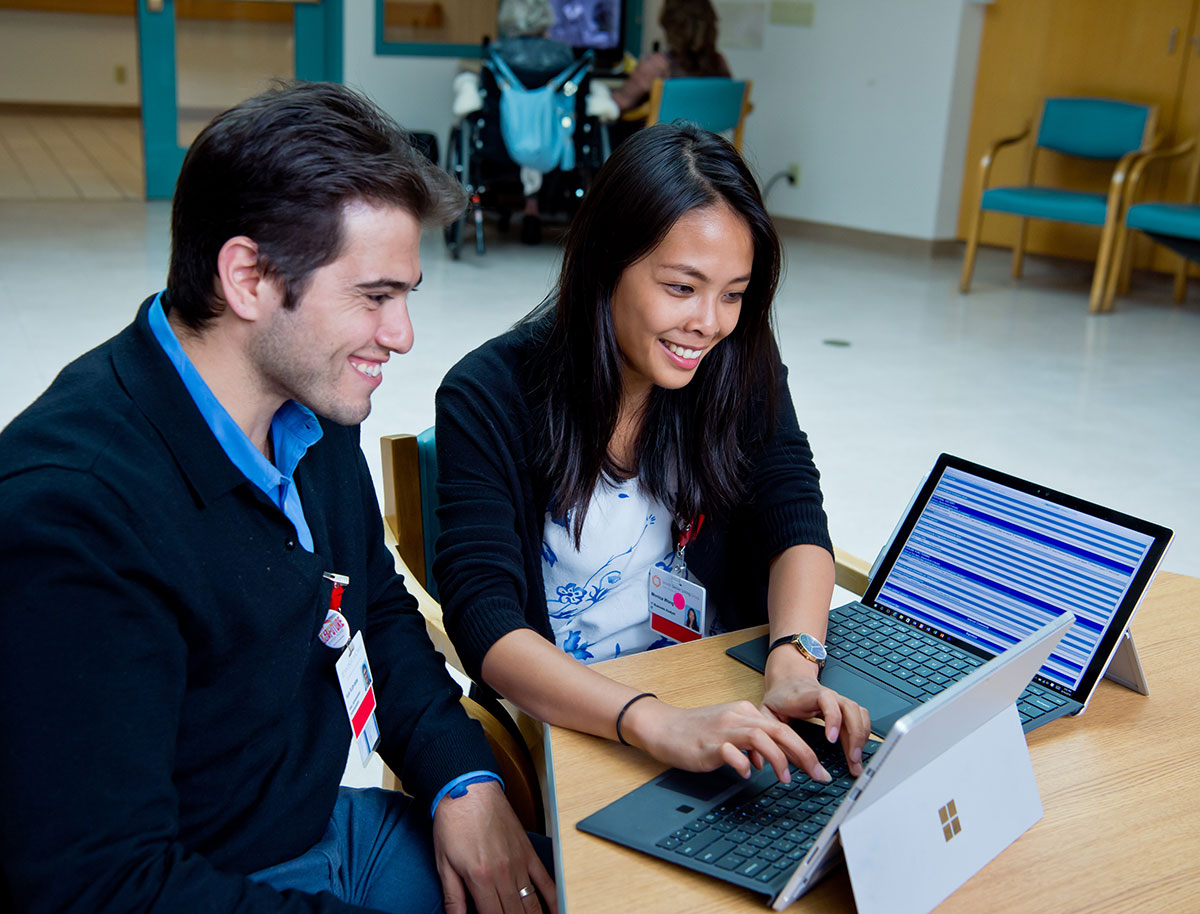 "Documentation is mandated," Kyle clarifies. "It shows whether people are coming to and enjoying a program, and benefitting from it."
With the new tablets, the team has developed intricate coding to record how residents' hearing, vision, interest level, and other abilities enable them to participate. For situations that require more explanation than a code provides, the tablet also accepts writing, which it transfers to a document. The portability of the tablets means staff can document quickly and easily, resulting in more quality time spent with the residents. "Our records will also be more accurate, comprehensive, and timely," Mediatrix comments.
But the tablets are not just for documenting; they are also for pleasure.
"It's a fantastic tool for residents," endorses Life Enrichment coordinator Kamran Sanei. His job is to provide programs that enhance residents' lives. The goal, he says, is to achieve the highest engagement.
Kamran is sold on the new equipment. "It's very interactive. We can put things up on a big TV screen, so groups can work together on puzzles, word games such as Hangman, and crosswords. I can take pictures of residents and post them on the screen. We can even help them Skype with their family members."
"We have access to the Internet and the endless resources it provides," Kyle points out. "We're serving very frail older adults. Utilizing technology enables them to stay engaged and involved with the world. We're only limited by our own creativity and imagination."