Words put to song
The Jewish Home's resident songwriters can now add another item to their list of accomplishments. In addition to their award-winning CD and documentary, and the use of their songs in our new synagogue's dedication last June, they will now be featured in the Oxford University Press's Handbook of Medical Ethnomusicology.
Dr. Theresa Allison spent 2007 working with composer Judith-Kate Friedman, Rabbi Sheldon Marder, and the songwriters as part of a study on the music life of the Jewish Home. The results were presented at the 2007 Gerontological Association of America meeting and appear as a chapter in the above-mentioned book.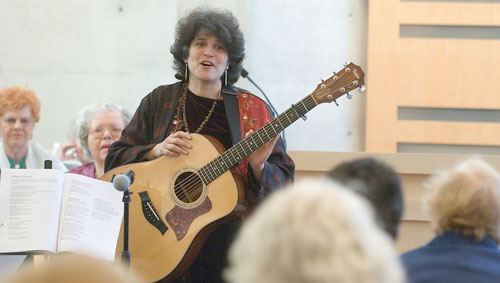 Singer/songwriter Judith-Kate Friedman and the songwriting group perform at the dedication of the Home's new synagogue.
One of Dr. Allison's key findings in this study is that the residents use music to transcend the limitations of institutionalization by creating a sense of neighborhood that goes beyond the physical space of the Home, and to bring past relationships into the present. At the synagogue's dedication, they took the use of music even further by creating a sacred space through Torah and song.
Community social workers enjoy special evening
For the seventh year, social workers and discharge planners from Bay Area hospitals and social services' agencies gathered at the Jewish Home for an elegant and educational evening. The October 16, 2007 event was a joint effort with the Home and Bay Area Social Workers in Health Care, a professional organization of medical social workers.
Guest speaker Dr. Mary De May, Jewish Home geriatric psychiatrist and an affiliate of UCSF's Memory and Aging Center, informed our 80 guests on the topic, Understanding the Psychiatric Interview, and entertained us with anecdotes that really brought the subject to life. Licensed attendees benefited by receiving one continuing education unit.
The Home's construction project may have prevented us from holding this event in 2006, but this year, with construction and renovation complete, we were able to showcase the impressive lobby of the Rosenberg Family Center, the site of the evening's reception. This was followed by a delicious – and beautifully presented – buffet dinner catered by our Nutritional Services department.
All our guests thoroughly enjoyed the evening, which was once again generously underwritten by the Julian Davis Lectureship Fund of the Jewish Community Endowment Fund.
From easel…
As part of a San Francisco State extended learning class, Diane Loeb, the Home's director of Admissions, co-taught a session of a Creative Aging class at the San Francisco Jewish Community Center in October. Entitled A Lifetime of Creativity, Diane shared her personal creative journey and experiences promoting expressive art with frail older adults. In addition to showing original paintings created by older adults, Diane gave each student the opportunity to paint a small postcard.
…to board
Diane Loeb has been appointed to the board of directors of the In-Home Supportive Services Consortium. Formed in 1985, the IHSS Consortium is a non-profit corporation that provides home care throughout San Francisco. The Consortium holds the contract for the City and County of San Francisco for those in need of care management. Yearly services are provided to approximately 1,500 clients by a staff of 473 home care providers and 50 supervisory and administrative personnel. Diane will serve on the board's Program Committee for a three-year term.
"Bridge to the Future" conference, Sacramento – September 2007
A number of Jewish Home employees attended California Culture Change Coalition's Bridge to the Future conference in Sacramento. Each session offered an opportunity to learn more about culture change in skilled nursing facilities, with speakers such as State long-term care ombudsman Joe Rodrigues, and Allan Komarek, president of the California Culture Change Coalition, sharing their knowledge and expertise.
The term 'culture change' may be defined as follows:
Resident care and activities that are directed by the resident
A living environment that is designed to be a home rather than an institution
Close relationships between residents, family members, staff and community
Work that is organized to support and empower all staff to respond to residents' needs and desires
Management that enables collaborative and decentralized decision-making
Systematic processes that are comprehensive and measurement-based, and that are utilized for continuous quality improvement
This is what some of our nursing staff had to say about the conference:
I enjoyed being at the conference with my co-workers as it is a good way to build our team. It was important to learn that we should listen to the residents by, for example, following (as far as possible) a schedule that residents prefer.
It was a very interesting conference. I learned a lot, especially the 'tender touch' that I can apply to the residents.
The conference was exciting, informative, and educational. We look forward to moving away from an institutional model to more of a 'home' environment. However, I am so proud to work for the Jewish Home because we have already implemented many topics covered at the conference. The coalition to change nursing homes is in line with what we are currently practicing at the Home. Our staff is also well-trained to give the best care. I look forward to continued involvement in culture change conferences.