The rehearsal is a lot of fun, but it can also be a bit tiring – even if you are not turning 101 on December 2, as is Marian – so deciding to savor some quiet time thereafter is understandable. But with her signature smile, Marian happily agrees to chat. She opens her room's door in welcome, and opens the doorway to her life.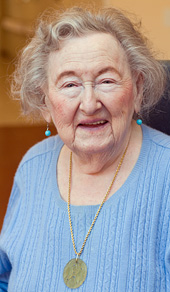 Marian Blechman's mother moved into the Jewish Home in the 1960s. Marian knew that, when the time was right for her, the only place she also wished to live was the Home.
"I'm blessed," she begins. "I'm thankful that I can still take part in activities at my age, and I have a wonderful family."
Marian speaks with enormous pride and joy of her son, Simon, her two daughters, Gail and Maureen, her four grandchildren, and her two great-grandchildren. Their framed photos adorn "Bubbie's" room, and their involvement enhances and enriches Marian's life. For her upcoming birthday, she anticipates the family will make a luncheon. As for her centennial, it was celebrated with a large gathering of kith and kin, with some members having traveled all the way from Israel, such as her cousin, Sarah. Marian still marvels at how wonderful it was to have them celebrate this milestone event with her.
Her positive outlook and delightful personality could almost controvert the fact that her childhood in her native Poland was so challenging. Raised in the small town of Domachevo, the untimely death of Marian's father left her young mother with three daughters to raise and precious little money with which to do so.
"Our town was bordered by a huge pine forest. I remember collecting blueberries, packaging them, then selling them and giving the money to my mother to buy food," Marian recounts, who went much of the time shoeless, as her mother could not afford the cost of footwear.
With haunting memories of her mother hiding the children in the fireplace when the Cossacks mounted attacks on the town's inhabitants, youth Marian and her teenage cousin sailed to America. Marian's destination was her aunt's house in San Francisco, which coincidentally, Marian points out, was located not far from the Jewish Home.
Displaying the characteristic resilience and determination that had carried her thus far, Marian embarked upon life in the new country. It involved learning English, and then leaving school in order to earn the passage for her mother and sisters to join her in "this beautiful land."
Marian worked as a saleslady, most notably for Liebes department store on Geary, and Ransohoff's. "I recall selling furs to New Yorkers who would come here to buy them because they were cheaper than on the East Coast. But wearing fur is not done today," she admonishes. "People who do could have paint thrown on their coats by animal rights' groups."
Marriage to Emanuel Schwartz produced her three devoted children. The 'Blechman' in Marian's name comes from her later marriage to David, who passed away in 2000.
Marian knew that the Jewish Home was where she wanted to live once she required more assistance with her activities of daily living. She had personally seen that it provided both the services and environment she desired, as her mother had moved into the Jewish Home in the '60s, where "she received beautiful care."
On the subject of 'beautiful,' Marian created beautiful jewelry in the volunteer-run jewelry-making classes that were held at the Home a year or so ago. She is wearing one of her pieces this day, and it is indeed lovely.
But then, so is Marian. To borrow from this lady who can chronicle more than a century, who has lived through harrowing times and come through them with a sweet sincerity, warmth and humor, we are blessed to have her at the Home.