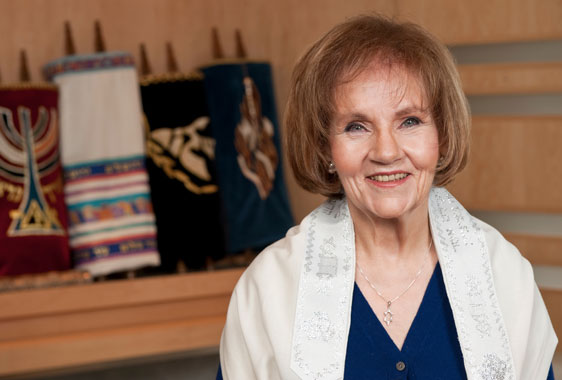 Audrey is referring to her life-changing decision to choose Judaism, which culminated in her conversion ceremony in August 2009. It was conducted by the Jewish Home's Rabbi Sheldon (Shelly) Marder in the Home's synagogue, and was attended by members of the congregation, L'Dor VaDor, as well as individuals from the community.
Audrey's religious quest and development began not long after she entered STARS, the Home's short-term and rehabilitation services program. Her enquiring mind and spiritual keenness led her to begin attending synagogue services, studying Hebrew with fellow resident Rebekah Finer, and participating in Torah Matters, a weekly on-site class facilitated by volunteer Helen Luey.
"Helen is remarkable," says Audrey. "She's deeply spiritual and a devoted volunteer."
Of Rabbi Marder, Audrey affirms that he is a great spiritual leader. "The rabbi puts so much into his discussions. Not only does he expose us to spiritual and religious teachings, but he brings creative elements, such as art and poetry, to bear upon them as well. He takes the universal and makes it personal, or he discusses the tenets of Judaism and uses them to teach us about strong values and to illustrate relationships at all levels."
"Involvement with someone who is converting is one of the great honors of my work," says Rabbi Marder.
Having undergone two additional surgeries since she first came to STARS, Audrey continues to benefit from the restorative therapy she gets here. Her appreciation for the care and treatment she receives found expression in the affirmation she wrote and delivered at her conversion ceremony. "I thank God for the opportunity to … abide as a resident of this caring and loving Jewish Home. I am grateful for the support and encouragement of many friends who are devoted members of this community."
What appeals most to Audrey about Judaism? "Mitzvot, the sacred obligations of Judaism, the continued study of the Tanach, the Hebrew Bible, participation in tikkun olam, 'repair of the world,' as well as mastery of Jewish values and causes, both as an individual and as a member of the community," she says.
Audrey's wish to have an effect, to continue making a contribution to her community, is reflected in the Hebrew name she chose for herself from the options suggested by Rabbi Marder. "I chose Advah. It means ripple, like a ripple in the water," she explains. "I like the sense that the word 'ripple' conveys. It's fluid, there's movement, and that's how I see my study of Judaism. I'm only at the beginning, but I'm moving forward."