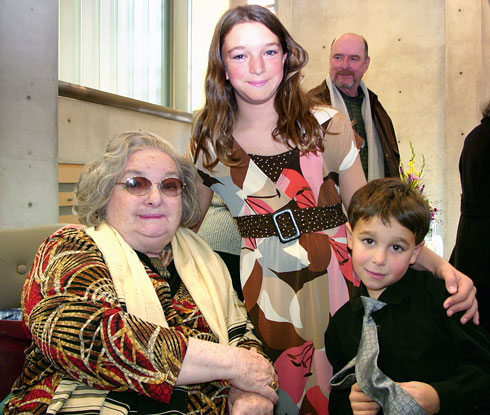 Rebekah Finer celebrated her bat mitzvah at the Home in 2007. Grandchildren Lily McCan and Noah Saso were at the simcha.
"My connection to Judaism keeps me going," says Rebekah. "It's what gets me up each morning. Some residents go to the creative arts center, some enjoy the music concerts, but for me, it's the Home's synagogue and my Jewish studies. These feed my soul."
Rebekah also has a thirst for knowledge. She recalls a seminal trip she made to Pakistan, India, and what was then known as Ceylon, to inform about American-style democracy, and joining an international group of youth leaders to travel to Israel under the auspices of the Intercollegiate Zionist Federation of America. She is also well-educated, with a B.A. in English from UC Berkeley, a master's in Near Eastern and Judaic Studies from Brandeis, and teaching credentials from San Jose State. Her professional career included working for the Jewish Welfare Federation and, interestingly enough, raising funds for the Jewish Home, to help it continue its long tradition of providing care, programs, and services for older adults.
"The Jewish Home keeps us connected to our community, and to the social, cultural and spiritual values that are so important to us," Rebekah confirms. Her connection to her community was further consolidated when she, three fellow residents and a longtime Jewish Home volunteer became b'nai mitzvah in a moving ceremony at the Home in 2007. When Rebekah was young, girls were not permitted to become bat mitzvah, even though she had studied in her Jewish community in Omaha, Neb., from the time she learned to read. "I always complained to the rabbi that I could read and study, but couldn't carry the Torah," she recalls. Being able to carry the scrolls at her bat mitzvah was the fulfillment of a lifelong ambition. "It was like a mother hugging a child. When you carry the Torah, you're fulfilling the responsibility of an adult."
Fluent in Hebrew and Yiddish, Rebekah was both the voice of a Hebrew teacher and supporter when a Jewish Home friend, Audrey Eichorn, decided to convert to Judaism. Rebekah looked on with pride as Audrey went through her conversion ceremony in the Home's synagogue, the place where, less than two years before, Rebekah had concluded her d'var (talk) Torah with the words, "Thank you, dear Lord, for allowing me to achieve this special day, to continue to grow, and to learn my tradition."
Politically involved and active in her former East Palo Alto community, Rebekah has not been idle since moving into the Home. She rallied the "troops" during the last presidential campaign so that this group of residents, "the grandmas for Obama" as they dubbed themselves, sported Obama/Biden stickers on their lapels and wheelchairs, which made for quite a unique, visible, and movable campaign brigade. She is also one of a number of residents who serves on a Jewish Home policy committee. It is important to have a voice in shaping policies, providing recommendations, and positively impacting how and what decisions are made for the residents, notes Rebekah.
On a personal note, this mother of four and doting grandmother of seven is looking forward to her grandson's bar mitzvah next year, having already celebrated the b'not mitzvah of three granddaughters. Says Rebekah, "It's thrilling to have my grandchildren carry on the tradition that has sustained me my whole life."