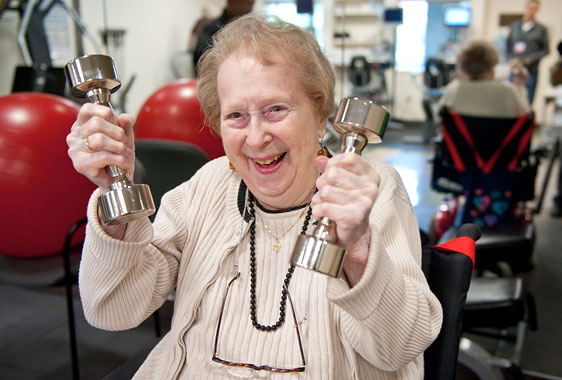 But she was also realistic: severe arthritis and spinal stenosis meant that her ability to enjoy even short forays in her neighborhood was becoming ever more restricted, if not impossible. Sociable by nature, Nanette knew that joining the Jewish Home's community could only improve her quality of life. And now, with six years of living at the Home behind her, she can confirm that her initial reservations have definitely been laid to rest.
So where would one expect to find Nanette engaged on a daily basis, someone who had too often been incapacitated by pain in the past and forced to undergo back and neck surgeries? The answer may come as a surprise. It is in the Home's on-site fitness center.
On this particular afternoon, Nanette's 45-minute session has her going through a variety of movements, specifically devised for her by fitness center manager Tony Yu. "We're working on increasing Nanette's upper body strength and leg strength, with the goal of establishing a weight-bearing level," says Tony. "And she's achieving it," he continues admiringly. "Nanette has impressed me, the nurses and, most importantly, herself, increasing her mobility and so regaining greater independence. She's dedicated to her exercise regimen. She really looks forward to it."
Nanette gives Tony one of her lovely smiles and reminds him to change the channel on the large flat screen television mounted on the fitness center's wall so that she can watch Barefoot Contessa, a favorite cooking show that airs on Food Network, while she does her leg lifts. "Haven't we seen this episode already?" Tony asks Nanette, matching her smile while keeping note of the number of repetitions she has completed.
"For someone who's supposed to be retired, I seem to have quite a schedule," Nanette quips. Her stint in the fitness center now done for the day, she is back in her well-appointed room (which showcases the beautiful pillows and wall hanging she crafted in her fine needlepoint) in the Home's Friedman Pavilion, and is happy to talk about her life and her style of life at the Home.
A native New Yorker, Nanette moved to San Francisco in 1942. Having studied biology and chemistry, and briefly music, her professional career included holding a position as an administrative assistant for the Palo Alto Medical Group (she still regrets not becoming a doctor) and fascinatingly enough, in the field of aeronautics during the war years for the precursor of NASA. Her talent and love for music led to her singing in the chorus of local opera groups, as well as researching and writing scripts for a weekly radio music station.
Extremely intelligent, well-read, determined and forthright, Nanette sets as high a standard for herself as she does for others. Books from the Home's library feed her need for good writing, while watching Jeopardy (making every effort to get the right answers is her self-imposed stipulation) and doing crossword puzzles stimulate her mind. Her knowledge of opera is supported by volunteer Merle Becker's Opera for Everyone classes that form part of the monthly activity offerings for residents. Her affinity for dogs finds expression in the visits she enjoys with friend Pamela Kane, who arrives at the Home with her two majestic standard poodles, Jack and Hannah.
Whether she is striving to literally stand on her own two feet or working on increasing her level of independence, Nanette's strength of character and feistiness will see her going the distance.