I was born in New York City. Before moving to Marin County in 1975, we – my late husband, Howard, and our three children, Gary, Michele and Ellyn – lived in Long Island. I decided to return to college, and in 1979, I received my degree in sociology and gerontology from San Francisco State University. I worked as an activity director at a variety of nursing homes in Marin, and was an instructor of community outreach classes at the College of Marin. I retired in 2000, but remained active in Hadassah, B'nai Brith, and at Marin's JCC. I also began painting with watercolors.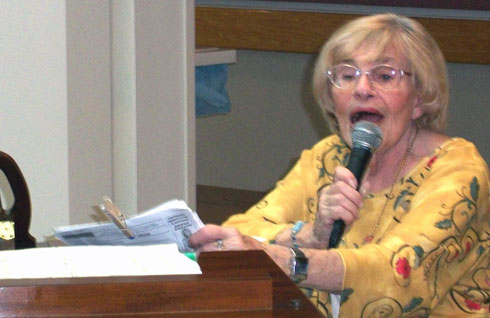 Fran rehearses for the Jewish Home's 2009 Chanukah show, American Chai-dol. At the performances, she blew the audience away with Kosher Weather, her original parody of Stormy Weather.
I knew it would dramatically improve my quality of life. The Home offered excellent care, and I was looking forward to being around new people, making friends, having opportunities to socialize, to participate in events, activities, and a whole range of programs the Home offers.
Without a doubt! I wake up in the morning and say to myself, Wow, am I lucky to be here. I've had unbelievable care and attention from loving staff, which allows me to take advantage of everything the Home has to offer. I have to say that my life is really exciting and fulfilling. At the top of the list is the time I spend volunteering as a companion to another resident. Betty tells me I bring joy to her life, and that, as well as sharing a friendship with her, satisfies my soul. I love to paint and I'm in the creative arts center a lot. One of my favorite paintings is a portrait I did a couple years ago for my brother Burt's 85th birthday. He said I made him look so young! In 2007, I joined three other residents and one of the Home's volunteers, started studying Hebrew, and became bat mitzvah at the end of that year. I really enjoyed the challenge and I learned much more about Judaism. Participating in the comedy clinic is great; we let us ourselves go doing improv, and as they say, laughter is good medicine. Writing is also fun and I'm a frequent contributor to
AtHome
, the monthly newsletter for residents. And of course I enjoy performing, especially at our annual Chanukah show.
I love doing parodies. I did one of As Time Goes By at the 2007 show and for this year's, I wrote a parody of Stormy Weather, which I called Kosher Weather. There are four verses; these are the first and last ones:
Don't know why, matzo balls fall from the sky
Kosher weather
Since the cook and I ain't together
I'm hungry all the time.
I could go on, there's no limit to this song
Kosher weather
Life at the Jewish Home keeps getting better
I'm grateful all the time
And so I'll end this rhyme
I'm kosher all the time.
Actually, I think my humor is sometimes a bit off-the-wall! To respond to being "philosophical," I know it's a truism, but I've learned that we can't always expect things to turn out the way we want or expect them to. I remind myself to count my blessings, which includes my family and my wonderful granddaughter, Zoe.
I remember an article I wrote a while back, before I moved to the Home and when I was still giving living history classes at nursing homes in Marin. I wrote that "in a nursing-home setting, never assume anything about anybody. The many verbal residents need to be heard; the silent ones are there in some sense – remembering, reliving, foot-tapping to some music of the heart, smiling, needing hugs, and getting them. Each person has a story to tell, a life they have lived and shared with loved ones. They still have hopes and dreams, and yes, fears for the future."
Then there's a prayer I treasure, and I'll quote parts of it. It starts with "Death will come. Its hand will not be stayed even an instant; nor can we enter into judgment with it." It ends with the following lines: "When we are dead, and people weep for us and grieve, let it be because we touched their lives with beauty and simplicity. Let it not be said that life was good to us, but rather that we were good to life."
I hope I'm being good to life. I know life at the Jewish Home is good to me.