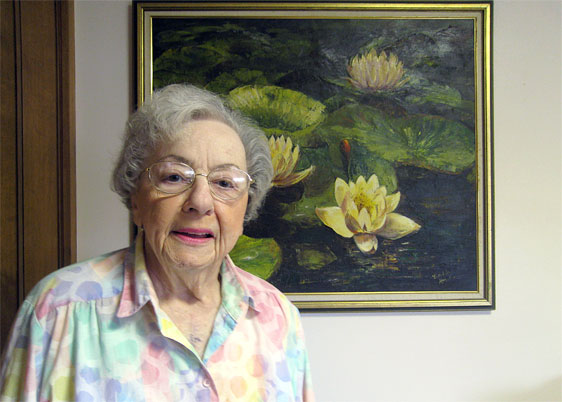 A number of Estella's works were recently exhibited in the gallery of the Jewish Home's Eugene Friend & Julian Davis Creative Arts Center. Viewing these compositions, it is hard to believe that Estella lost the full use of her right hand a few years ago. Undeterred, and fueled by her passion to continue expressing herself on canvas, she learned to paint with her left hand.
Determination is a trait that has sustained Estella through most of her life, particularly her early years, the details of which give lie to the beauty that informs her art. Born in the small German town of Magdaburg, Estella and her family escaped to Shanghai toward the end of 1939, having experienced the terror of Kristallnacht, and leaving behind not only all their material possessions, but also the mental and physical well-being of Estella's father, who had been incarcerated in Buchenwald for several months. Just two years after their arrival in Shanghai, Estella's mother lost her life to stomach cancer, which forced young Estella to cut short her formal education and learn dressmaking in order to support her ailing father. Surviving both their ghettoized lives and the intense bombing raids, the family then made their way to America, with Estella and her father settling in San Francisco in 1947. Estella began working at I. Magnin's flagship store on Union Square (some of our readers may remember this high fashion and specialty goods luxury department store). Shortly thereafter, she met her husband, Marvin.
"My husband and I shared 30 wonderful years," says Estella, recalling their move to Idaho and the raising of their three boys, Michael, Mark, and Alan. Marvin's death in 1976, followed by son Alan entering the disabled students program (the result of a car accident) at the University of California, Berkeley, brought Estella and her son, Mark, back to the Bay Area in 1981. Sadly, Alan died of leukemia in 1993.
Estella's sense of humor, optimistic outlook, her eye for composition and color (she mirrors this in her personal sense of style), and her love of art have sustained her through life's hardships. She explains that her studies at The Art Students League of New York and Idaho State University, and with notable twentieth-century artists David Leffel and Sergei Bongart, who extolled "color first, subject last," have influenced her work.
Estella looks around her exhibit at the Home – the place, she says, that contributes to her Jewish sensibility, nurtures her social skills, and champions her love of art – and her gaze stops at a painting resting on an easel built for her by her late husband. "If a work of art can touch an emotional cord, then it is to some degree successful," she muses. "To capture an essence that goes beyond what one sees is the purpose, the heart, of why I paint."