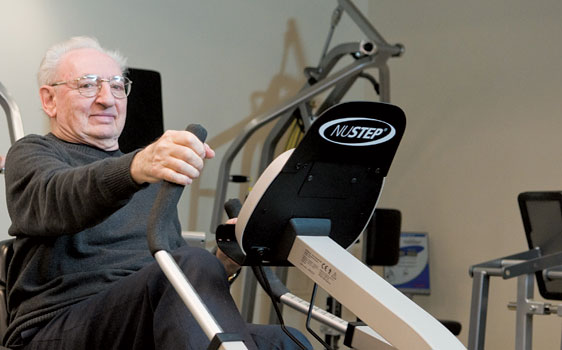 But his condition was quite different when he came to the Home in 2004. He was in such acute pain from fractured discs that he could barely move, let alone walk or take care of himself. "I could hardly shift a muscle," he recalls. "They even had to feed me." Confronted with spending his days confined to his bed, Rudy had lost all hope.
Today, he is held up as the model for the work that is done in the Home's rehabilitation center by its cadre of dedicated therapists. Rudy may have dubbed his treatment regimen "my daily torture," but he gives credit to the physical, occupational, and speech therapists for helping transform him.
All the hard work and effort Rudy put into his rehabilitation has helped his body regenerate, he says. His rigorous routine initially had the therapists moving his arms and legs for him, but little by little, he was able to move them himself. Two years on, he was walking with the aid of a walker.
Such determination and fortitude are in keeping with the character of a person who, as a 15-year-old, went into hiding for three years in his native Holland during World War II – without the reassuring presence of either his mother or father. Chronicling his wartime experiences in AtHome, the monthly newsletter by and for Jewish Home residents, Rudy kept readers riveted with episodes of near-escapes, charmed by tales of life in the Netherlands, moved by the courage and compassion of non-Jews who sheltered him and many other Dutch Jews, affected by the death of his parents in the Holocaust, and engaged by his tongue-in-cheek observations.
Rudy brings his sense of humor, charm, and big smile to some of the many other activities and programs in which he is now involved at the Home. Come upon him at the twice-monthly comedy clinic and there he is performing improv, or, as he describes it, "an hour and a half of making fools of ourselves." He is armed with a quip and change when he volunteers as a cashier in the garden café, and he applies his draftsman eye for fine detail and color when he paints in the Eugene Friend & Julian Davis Creative Arts Center. His artwork has been displayed at exhibits in the community, and continues to form part of a series of ads in j., the Jewish news weekly of northern California.
Off-campus, Rudy may be walking to the neighborhood drugstore to stock up on a few toiletries and candies, or, together with Miriam, his wife of 58 years, who also resides at the Home, taking granddaughter Cali out for a hamburger. Then there are a number of resident outings throughout the year, such as a visit to the Legion of Honor museum, the symphony or opera, and the annual resident luncheon at Lake Merced Golf Club.
Fellow residents and staff like to take the title of Rudy's account of his war-time experiences, I Am Still Here, to tell him how good it is to have him here, at the Jewish Home, serving as an inspiration to others as he continues to work out in the Home's Herbst Fitness Center and contributing to the Home's vibrant community.