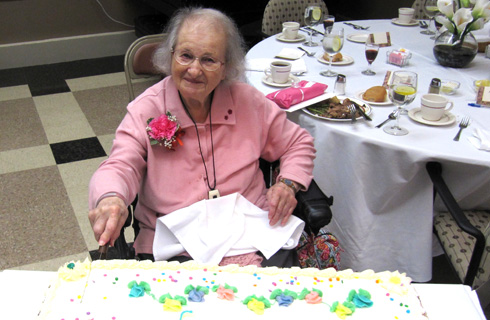 Sylvia Korn.
At 95, Sylvia can look at a life fully and well lived. A native of New Haven, Conn., her working years were spent providing service to others, ranging from administrative assistant for the Redevelopment Agency in New Haven, to being in charge of the office of the Social Services department at Yale New Haven Hospital and Yale Medical School. Even her non-working hours were spent being engaged and involved. She was an active congregant, co-president of Rodef Shalom's sisterhood, associated with the National Council of Jewish Women, and sat on the boards of ORT and New Haven's Beth El Keser Israel, in addition to being president of the latter's sisterhood. And she has not ceased serving; she continues in her role as vice president of the Home's Council of Residents, a position she assumed in 2007. She is in attendance at the monthly Council meetings and joins the other Council officers as representatives of the Home at events such as our annual fundraising golf tournament.
"I can't belong to something unless I contribute," Sylvia states. "It's an honor to have been chosen to fill this role and a privilege to be able to give back as much as I can to the Home. Look what they've given to me. Where else can you find such expert round-the-clock medical care?"
And taking expert care of Sylvia is just what her on-site Jewish Home physician is doing, aided by Sylvia's positive outlook, her delicate sense of humor, and determination. "I told my doctor I want to live to be a 100," she quips. "He told me to add another 20 years."
A talented pianist since her youth, nowadays Sylvia is translating her artistic abilities into painting in the Home's bright and airy creative arts center. "Painting has become my form of relaxation," she says, displaying the landscapes and still lifes of which she is justifiably enamored.
Sylvia and her late husband, Irving, made the move to California in 1989 to be closer to their daughter, Betsy, a clinical psychologist, and her family. Sylvia was widowed in 1993, but holds the memories of her 47-year marriage dear, takes pride in her family members, and cherishes her friendships. Jewish tradition is also important to her, and her participation in our new synagogue's dedication a few years ago, when she, accompanied by then board of trustees' chair David Friedman, carried a Torah, was an extremely significant event for her. "I feel as though I'm near to God," Sylvia told the Home's Rabbi Marder on that day, so moved was she by the occasion and by being present in the new temple.
It takes some encouragement for modest Sylvia to reveal that her brother considered her the model for their family. In typical style, Sylvia merely remarks, "I do the best I can today, and pray to God that tomorrow will be a good day."