"There is a saying in Russian, "A man is weaker than a fly but stronger than iron." Sometimes the years that passed by could be doubled, if their path was not difficult, thorny, and very complicated. Sometimes you had to overcome obstacles. … Since my birth, I had to overcome many "surprises." Probably my immune system became strong in the struggle for life and it helped me to live to such an age."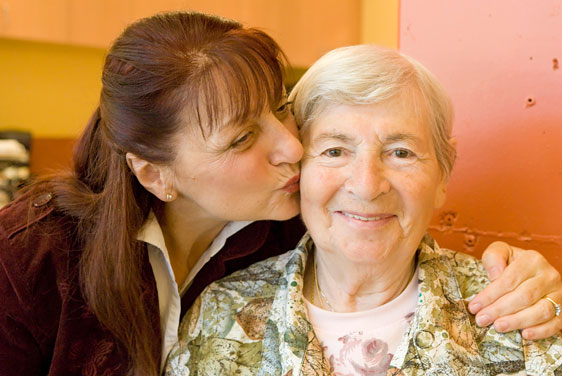 Thus Rakhil Lantsman begins her written history, which she entitled My Fate. Now 91 and a resident of the Jewish Home of San Francisco since 2005, it is clear that Rakhil's 80th birthday hardly signaled her "declining years." Gracious but with a delightful sense of humor, her gentle smile belies the strength and tenacity that enabled her to overcome adversity.
Born in Kalinovka, Ukraine, Rakhil's teenage years were darkened by pogroms and times of starvation. The advent of World War II saw her being evacuated with her baby son, Arkady. They survived this brutal period, but sadly her husband did not. A reunion with Aleksander – a friend of her brother's, who had lost his own family at Babi Yar, the site of the most notorious massacre of Jews in the Soviet Union – led to her second marriage and the birth of a daughter, Elizabeth. But returning to life in Kiev, a city in ruins, was fraught with hardship. Almost two decades were endured living in a spare single room of less than 200 square feet, which lacked anything resembling a kitchen or indoor plumbing. Yet through it all, both Rakhil and Aleksander worked long and hard, and both children were educated, going on to receive degrees. In 1969, Aleksander died, and 10 years later, Rakhil and her family made the decision to immigrate to the United States. "We were only allowed to take $90 dollars and two suitcases per person," Rakhil recalls.
"Although my mother was already 61, she was determined to adjust to her new life in the U.S.," says her doting daughter, Elizabeth. "She went to school to study English and volunteered to translate for those who couldn't speak the language. She attended programs for senior citizens and participated in social activities, especially dancing. She also learned to play billiards, which she really enjoyed."
"I was very happy to become an American citizen," Rakhil breaks in, "and very proud that I answered all the questions in English."
For a number of years Rakhil had the opportunity to travel extensively – to Brazil, Botswana, the Philippines, and Israel – accompanying her daughter and son-in-law on their diplomatic assignments with the U.S. Embassy. A photograph taken in Jerusalem shows Rakhil posing with then Secretary of State Colin Powell.
Now a great-grandmother, Rakhil still loves to dance, makes a point of taking daily walks around the Home's campus, and would not miss a session of bingo.
"Since my birth, I have passed through water and fire," she says reflectively. Then she smiles: "I think my story is enough for two lives, maybe even three."