Written on April 16, 2010
What do you reckon is a schnecken?
Patsy Levinson, Jewish Home resident: "Do you know what a schnecken is?"
Arthur Hofmayer, Jewish Home social worker: "Actually, I don't. Let's Google it. Do you know how to Google?"
Patsy: "No."
Arthur: "Well, this would be a good way for me to learn what a schnecken is and for you to learn how to Google."
So Google schnecken they did. And it turned out to be what Patsy sums up in three words: "What a taste!"
Pronounced shnek-en, these little croissant-like pastries may be filled with nuts and raisins, and then rolled in sugar. "I remember my mother using a pestle and mortar to grind pistachios for her version," says Patsy, "and we always used both confectioner's sugar and cinnamon sugar."
Schnecken means 'snail' in German, so the pastry may get its name because it is rolled to form the shape of a snail. Regardless of schnecken's etymology, though, it is her memories of the making and eating of this delight that has whet Patsy's appetite.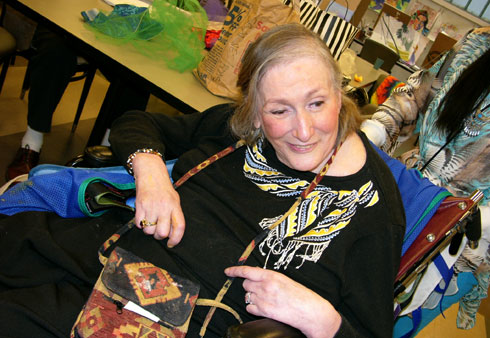 The paintings Patsy Levinson creates in the art studio reflect her colorful, individualistic spirit.
"We were all good cooks in my family," recalls Patsy, who grew up in Chicago. "My mother would prepare all day for the Shabbat meal. I was the challah braider. We also made kishke, which was great to eat, but awful to make. Cholent, too, was part of the menu. But the best was schnecken for dessert. And I never had a problem eating three or four of them at a time. Oh, what a taste!"
Holding masters' degrees in psychology and art, Patsy worked as a child psychologist until her retirement in 2000. She moved into the Home in 2005, and since then has taken advantage of programs and opportunities that satisfy her interests in Jewish life, art, poetry, and socializing. Her activities and engagements range from catching screenings of films from the San Francisco Jewish Film Festival that are shown at the Home, to participating in our annual Chanukah show, attending classes run by our rabbi, Sheldon Marder, or going to the creative arts center. "The center's open studio environment gives you such a sense of freedom," Patsy says. "There you can be exactly who you are."