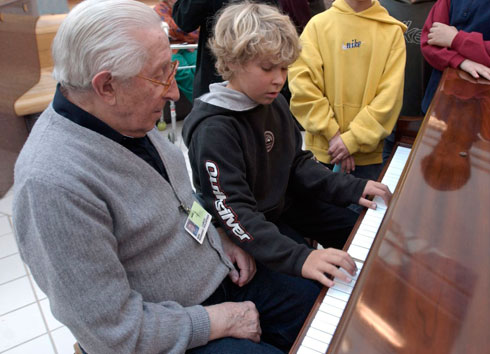 From octogenarians to youth, the music created by Ben Lubitz has filled the halls of the Home and the hearts of all who hear it.
Ben's days at the Home have been filled with activity, from volunteering in the dining room, setting out preparations for breakfast, arranging the coffee bar, helping with bingo, working out in the fitness center, and attending synagogue services. But he is best known for making music. Residents, family members, visitors, and staff delight in his piano playing at concerts he gives around the Home on a regular basis, his solo turns at our annual Chanukah show, or performances for guests attending the Home's annual fundraising golf tournament and dinner.
Ben began playing the piano quite by accident, when at 8½ and untutored, he sat down at the family's keyboard at their home in Grodno, Poland, and picked out a song he had heard his sister play. His parents arranged for him to begin taking lessons, and by the age of 20 he was immersed in music school, sitting in with a professional band in the bar of a fancy hotel, and on his way to becoming a concert pianist. Then the war broke out and Ben was drafted into the army. He was wounded, captured and imprisoned, then sent to a ghetto. That is where his met his late wife, Sonia. They managed to escape and endured 16 months hidden in a small tunnel, before finally landing on the shores of New York City in 1945.
It seemed as though Ben had put his piano-playing days behind him, first washing dishes in a Brooklyn luncheonette, then applying what he learned on the job to run a fountain in a Manhattan drug store (where Sonia did the cooking), and ultimately owning two diners. When Ben and Sonia retired to Florida in the 1970s, an encounter with musicians from the Benny Goodman and Tommy Dorsey orchestras brought him back to music. They began playing together and "everyone wanted us," he recalls. After decades of barely touching a piano, in his retirement years Ben became a professional musician.
Ben has continued to learn new pieces to add to his repertoire of classical and show tunes. In January 2006, one of his two sons arranged for him to record a CD. The result is a collection of 24 piano pieces ranging from Johann Strauss's Blue Danube Waltz to My Yiddishe Mama – and much to the surprise of the recording engineer, Ben reports proudly, all recorded in one, perfect take.
"I take things day by day," Ben says from his room at the Home, where pictures of Sonia and a needlepoint she made are loving reminders of their 60 years of marriage. "The glass is always half full," he continues. "The Jewish Home has a very high standard of care, and I'm just glad I can contribute."