The couplet above, which is part of a longer verse, is one of the many ways Ellen Marks-Hinkle expresses her happiness – about life and about living at the Jewish Home. Here's another: On a shelf across from her bed, where she can see it when she wakes up in the morning, is a simple carving that states, "Life is Good."
"I saw a picture of it online and I just had to have it," Ellen says. "It's exactly how I feel."
Clearly a glass half-full type of person, she observes: "I don't think about the things that are wrong with me. That certainly doesn't do me any good."
Ellen moved into the Home three years ago. After suffering several injuries and a stress heart attack, her doctors advised her she would no longer be safe living alone. At the time, she was not happy about making the change, but now, she says, "I absolutely love living at the Home."
A San Francisco native, Ellen has fond childhood memories of riding her bike through Golden Gate Park with her friends. "It was a safe time to grow up," she thinks back. She was confirmed at Temple Emanu-El, where her father, Raymond Marks, was president. She graduated from Lowell High School – as did her parents and grandparents – and then earned a double major in speech and language pathology from the University of the Pacific. This led to a career working with youngsters in children's centers.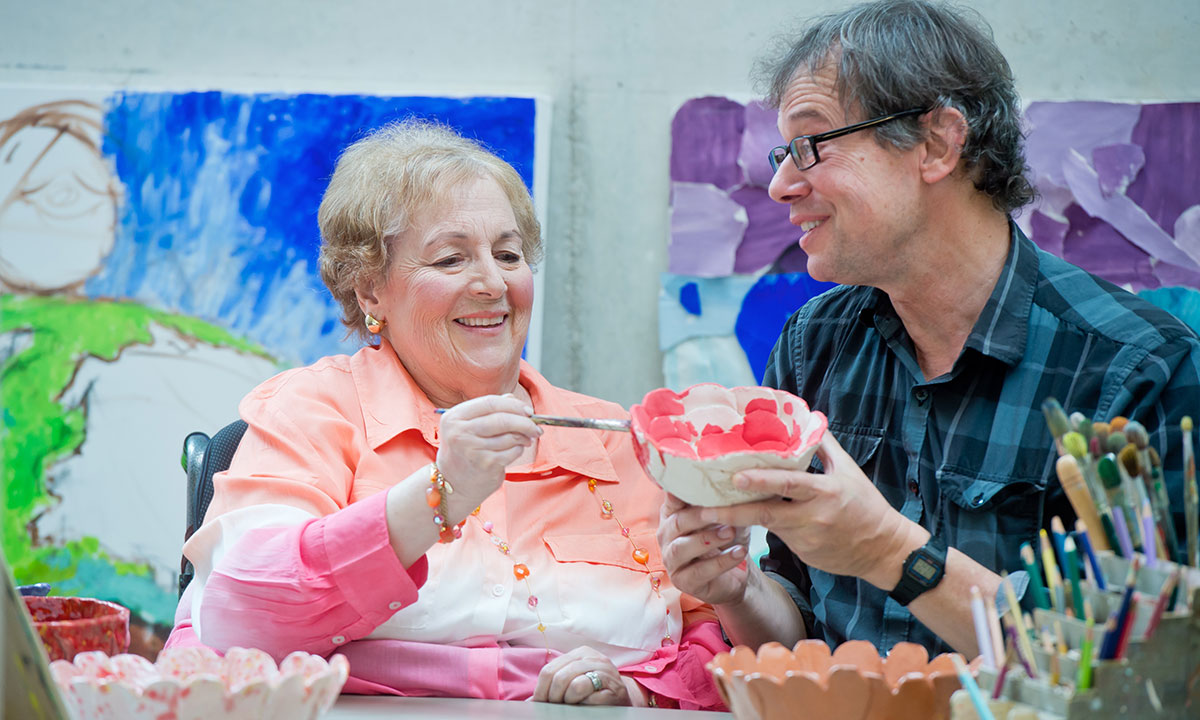 The mother of two, Caroline and Daniel, and grandmother of Lauren, Ellen has also had a significant other in her life for 15 years. "When I first moved here it was very difficult for Alan," she says, "but now he loves coming to visit. She is also a bird-watcher and animal-lover. A picture of her last pet, a ginger tabby cat named Rojo, which was painted by Fran Hament, a fellow resident and friend, ornaments her desk.
Not surprisingly, Ellen's life at the Home is active and involved. She is thrilled to be the vice president of the Council of Residents and is full of ideas for new activities. She was instrumental in getting a meditation group started. "I studied meditation in my 30s and 40s and remembered how calming and peaceful it was. I thought it was important for us to have it here," she explains.
She has taken up ceramics and is often to be found in the Home's creative arts center. Besides exercising her creativity, she has discovered that ceramics strengthens an arm that does not work well, she says.
Ellen is also on the Residents Menu Planning committee (she suggested adding curry to season some of the dishes), and enjoys many of the lectures and discussion groups that take place during the afternoon, her favorite time of day. And then there is her poetry. "If something pops into my head, I write it down, and then I work on it."
"I'm busy, which is great for me," she confirms. "There's no way I could do all this if I wasn't here."