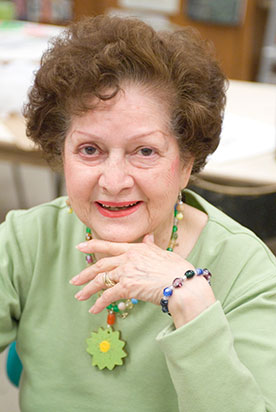 At the Jewish Home of San Francisco, resident Dulce Martinez found just that, "my new family, my new home."
Dulce well understands the importance of "home." Born in a mining camp in Ramey, Colorado, she was the youngest of seven surviving children. Following the death of her father at an early age, she and most of her siblings followed her strong and independent mother to the state's Town of Aguilar. Instilled with the value of education, Dulce became a dental assistant and then obtained a license in cosmetology.
With two brothers living in California, she decided to make Burlingame her new home in 1962. During the next 40 years, she taught and volunteered – two things that gave her the greatest joy and helped her make friends.
As the only practicing Jewish person in a family that included several religions, Dulce began attending San Francisco's Temple Emanu-El as a young adult and volunteering in their gift shop. She became a member of the Temple's sisterhood and accompanied the group to the Jewish Home's synagogue services on Saturday mornings. Recalling the pleasure of sharing post-services refreshments with the Home's residents, Dulce says, "I so enjoyed my visits at the Home, because Judaism has always been an integral part of my life."
When her health declined, Dulce came to live at the Jewish Home. "I was happy living here from day one. I felt welcomed and immediately made friends," she says.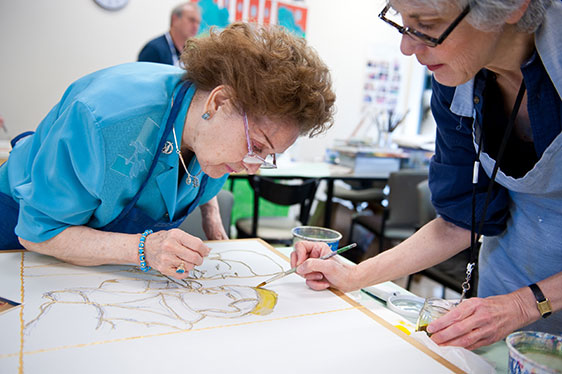 Yet, for all that Dulce had accomplished personally and professionally, one thing still seemed to be missing. "Becoming a bat mitzvah was something I wanted to accomplish all my life," she explains." With the assistance of the Home's Rabbi Sheldon Marder, she realized her goal in April 2005 in the Home's on-site synagogue. It is fitting that Dulce's Torah portion for this rite of passage dealt with being strangers in the land and how we should treat each other.
As Dulce has learned firsthand, the Jewish Home, a U.S. Centers for Medicare & Medicaid Services five-star rated facility, not only provides highest-quality care and services, but also builds relationships and fosters the attributes of friendship. Warmth, compassion, support, a sense of belonging, opportunities to continue to flourish.