The note to the rabbi that Fred has attached reads as follows: "This check reflects but in a small way my gratitude for the many hours of enjoyable learning you provide for me at classes at the Home. Massel und brocha! [Good luck and blessings!]"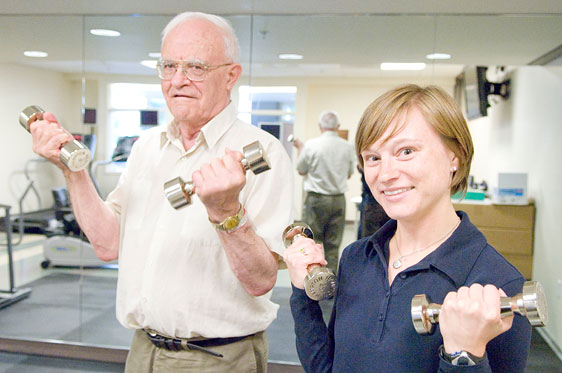 Often using such milestone occasions as reasons for his generosity, this is one of a number of meaningful gifts Fred has made to support the religious and spiritual life of the Home through its department of Jewish Life. Then there was the gift he made in honor of two of his fellow residents who celebrated their 50th wedding anniversary and their 80th birthdays, and one that recognized Jewish Home staff for their devoted and thoughtful care. Another donation he made in memory of his cousin in Switzerland who, like Fred, was "very interested in the philosophical and moral aspects of Judaism."
A love of learning and teaching has engaged Fred for most of his life. He earned a doctorate in mathematics from UC Berkeley, taught this subject at both UC Berkeley and Harvard, and worked as a physicist at the Lincoln Laboratory, Massachusetts Institute of Technology. He then went on to hold a professorship in mathematics at San Francisco State University until his retirement.
But Fred also believes in exercising his body as well as his mind, which is why he can be found in the Home's Herbst Fitness Center almost daily, using six different senior-appropriate machines under the supervision of the fitness center's manager. He attributes his well-being – which includes sufficiently lowering his blood pressure so that he does not need to take as many pills to control it – to his hour-long workout sessions.
Records kept by the fitness center staff's demonstrate that it is never too late for the elderly to reap the benefits of exercise to improve their functionality and increase their independence: over a 12-week period, for instance, the typical user of the center showed a 24 percent increase in strength and a 153 percent increase in endurance.
When it comes to keeping the muscles, the body, and the mind strong, "Use it or lose it," asserts Fred.