Pride in his creations and continuing amazement at what he is able to do pepper George's conversation. "I'd never painted before entering the Jewish Home. Now I always promote the creative arts center to other residents, letting them know how it's enriched my life and how happy it's made me. In fact, I feel I've found a new life since discovering the Home's art studio."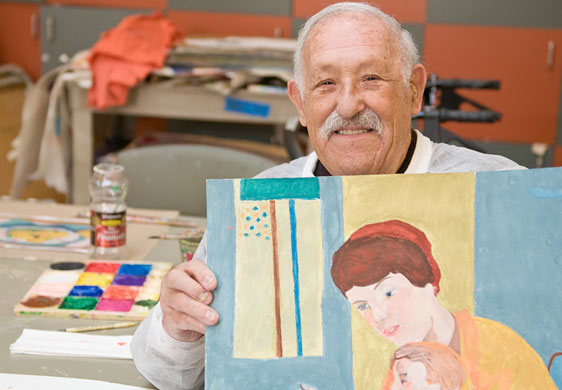 George's "old" life began in Morocco, his country of birth, in 1924. Marriage in Casablanca was followed by a move to Paris. The Ruimy family then made their way to the United States in 1965, initially to New Jersey, and settled in San Francisco in 1977. Here George worked as a jeweler, an industry that may have supported his nascent artistic skills, groomed his appreciation for color, and developed his eye for detail.
But it was once he moved into the Home and joined its thriving creative arts program that his talent really blossomed. George enjoyed the personal hands-on instruction from both the creative arts director and specialist, "who gave me the opportunity to learn painting. In just a short time I learned so much. I can now call myself an artist," he reports with delight.
He is also an example of how effective creative expression is at keeping people active and engaged. The studio is a gathering space where resident artists share their stories – and where George's fellow makers of art validate his endeavors. "Every time they see me doing a new painting they congratulate me. This increases my enthusiasm." And when it comes to being an active participant in the program, the fact that the center is open six days a week is just not enough for George. Thanks to his daughters, who "gave me a beautiful desk for Chanukah and keep me supplied with extra materials," he happily repairs to his own room when the center is not available to practice his drawing skills.
A dozen of George's paintings grace a hallway of the Home, where they receive compliments from staff and visitors alike. His artwork appears in a series of ads in j., the Jewish news weekly of northern California, while his glorious painting of sunflowers was chosen as our official poster advertising this year's Summer Arts Festival – a four-month long celebration encompassing outings, performances, lectures, concerts, and more.
With his high level of motivation, tangible evidence of his endeavors, involved staff, and encouraging resident artists, it is certain that George is already dipping his brush into a new series of paintings.