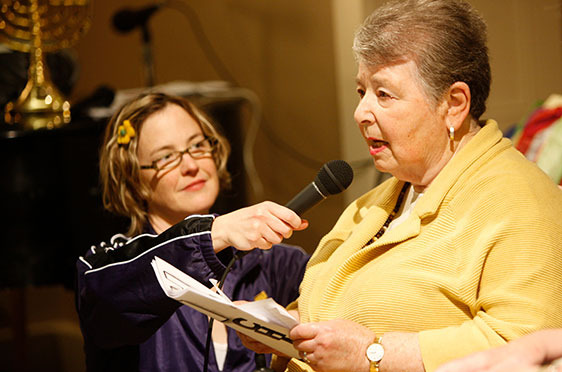 Edie needed the Home's skilled nursing care, but she was also looking for something more: getting back her life.
"I was looking to join a community," she says, "and that's what I found at the Home. Here I can share coffee and cake with friends in the garden café, visit the dentist, enjoy a live concert performance, do my therapeutic exercises, pick up a new book at the library, get X-rays taken and discuss my condition with my doctor, and even go shopping in the gift shop – all without leaving the Home's campus.
"It's the best place in the world for me. Everyone who visits me here can't get over how wonderful this facility is. The grounds are beautiful, and all the activities and services available are incredible."
A talented, humorous writer and enthusiastic performer, Edie has made a point of getting involved in programming opportunities at the Home. She is a regular contributor to the residents' newsletter, AtHome, her pieces ranging from revealing her most embarrassing moment (her challenge to fellow readers to follow her lead and reveal their own has not yet been met; she suspects they may be too embarrassed) to clever, pointed song parodies. Our most recent annual Chanukah show saw Edie performing the latter onstage, both as a solo turn and as part of the chorus – and definitely to the delight of all.
Family means everything to Edie. With three grown children and four grandchildren, she sometimes finds it difficult to keep up with their busy lives. "My granddaughter in New York wanted to e-mail me pictures from her cell phone," Edie relates, "but I'd never used a computer before. Now, with help from Arnold, one of the Home's devoted volunteers, I'm connected! I e-mail and Google. The digital pictures of my family come alive on my computer screen. I can even see and talk to my 90-year-old brother through Skype. My world has expanded."
"I'm also safe," Edie continues. "Because of the excellent medical and nursing care I receive here at the Home, I can have a full and active life again without fear. It's so reassuring to have that promise fulfilled, that I will always be cared for. Now, I'm truly home."