Phyllis had suffered a spinal cord injury that left her paralyzed from the chest down. After surgery at Stanford Hospital, she was moved to San Jose's Santa Clara Valley Medical Center, where she spent at least four hours each day in what she describes as heavy-duty physical therapy. Learning that she might regain some of her movement but would never walk again, Phyllis says philosophically, "You have two choices: You can go into your room and lie there, and that's your life. Or you can try to do and function as much as you can while you're on this earth."
Not surprisingly, this vivacious, outgoing and engaging woman – whose lifestyle had included a large circle of friends, the symphony and games of bridge – opted for the second choice.
About six weeks after her fall, Phyllis took up residency in the Jewish Home's Friedman Pavilion. Her daughter, Melanie Wolf-Greenberg, took time from her teaching job in Pennsylvania to be with her mother, get her settled, and decorate her bright, garden-facing room with family photographs and other familiar items.
"There were lots of different options for Mom," Melanie says, "but the Jewish Home was wonderful. The transition was easy."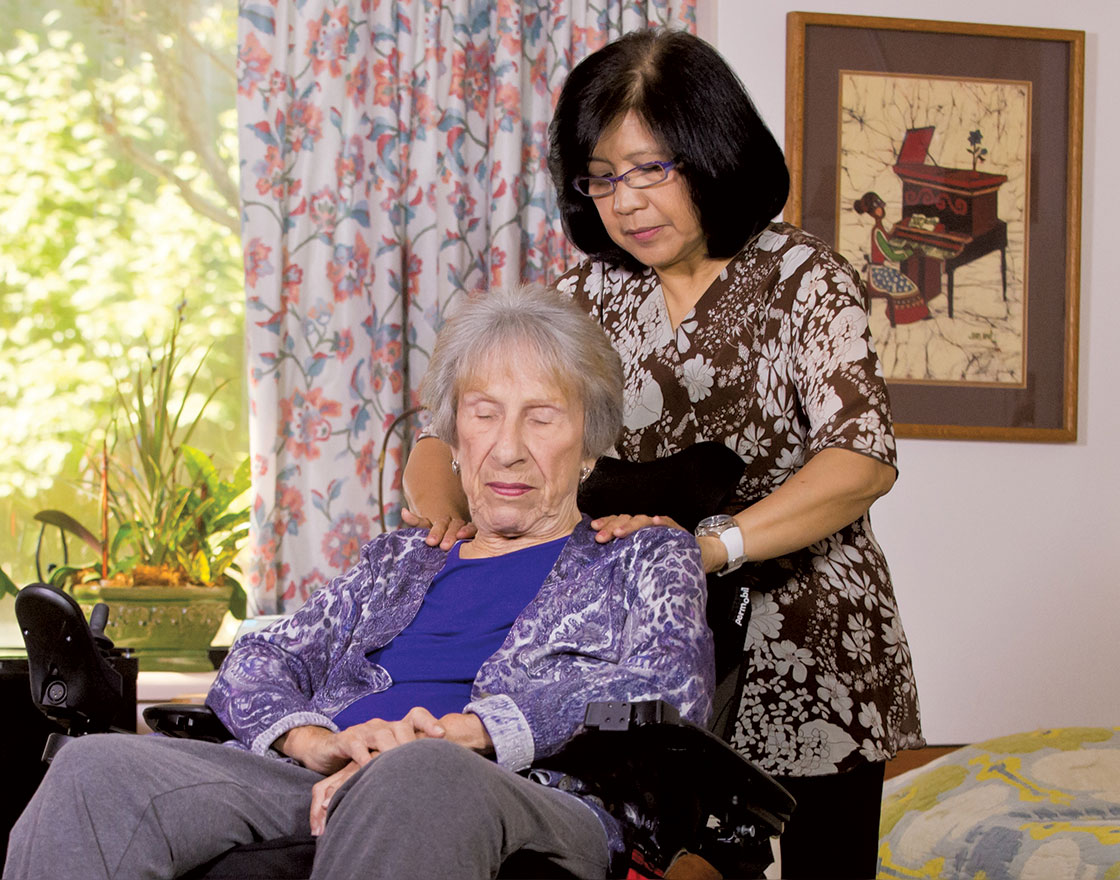 Phyllis is now once again immersed in multiple activities and healthful practices. These encompass exercise (she is on the omnicycle for 25 minutes a day); watercolor painting (a new venture for her); physical and occupational therapy; Healing Touch™ energy therapy with the Home's certified practitioner Mediatrix Valera ("I relax and Mediatrix uses her hands in some kind of magical way"); the rabbi's weekly learning sessions covering Jewish art and literature ("I wouldn't miss them; they're so interesting"); poker three days a week; an improv comedy workshop; socializing at the Home's garden café; and entertaining friends who visit frequently. She also continues discovering connections among the Home's volunteers. "The circle keeps enlarging," she comments about finding that a volunteer was close friends with her cousin.
Her off-campus reach is growing, too. She recently joined a group of residents on a field trip to the Legion of Honor museum's exhibit, Impressionists on the Water. When her son, Doug Wolf, visited from Southern California, "We went to a restaurant across the street from the Home for a hamburger, at her request," he says, noting that "my mother makes the best of whatever she can."
Phyllis grew up in San Francisco's Marina district. She taught school for 30 years in Redwood City, retiring in 1992, and says she is proud to have been a trailblazer for women re-entering the work force. After Stan Wolf, her husband of 54 years, died, she met Lewis Weil, and was with him until his passing. "I was very lucky," she believes. "I had two wonderful men in my life."
Melanie and Doug are pleased that their mother is adjusting so well. "I'm very comfortable having her live at the Jewish Home," Melanie vouches.
"She's very happy there," adds Doug, "and that's what is important."