Victor enlisted in the military at 17 and found himself in the famed 82nd Airborne Division. He was injured twice, but through a series of mishaps, was awarded only one Purple Heart. Life went on. He married, moved from St. Louis, Mo., to Iowa's Council Bluffs, raised a family, and retired in Omaha, Neb. He did not think much about the missing Purple Heart until a few years ago when he was chatting about his World War II experiences with a chaplain at the local Veterans Administration. Thereupon began a search for written evidence, eventually found in the 1944 archives of the St. Louis Post-Dispatch and culminating in April 2012, nearly 60 years later, in an award ceremony where Nebraska's Senator Mike Johanns pinned the missing Purple Heart on Victor's lapel.
"I became a celebrity," Victor chuckles. He had numerous interviews and his photograph splashed on the news. "I also had a Purple Heart on my car's license plate and I could park anywhere I wanted for free," he adds.
"It was very emotional, very special, and long overdue," says his daughter Robbin Mashbein, of San Francisco.
In June 2013, after falling and fracturing his hip, Victor moved to the Jewish Home to be near his daughter. It was a life-changing event, Robbin says. Up until then, Victor was living independently in a senior community in Omaha, still driving and socializing – quite "a man about town," is the way she describes her father.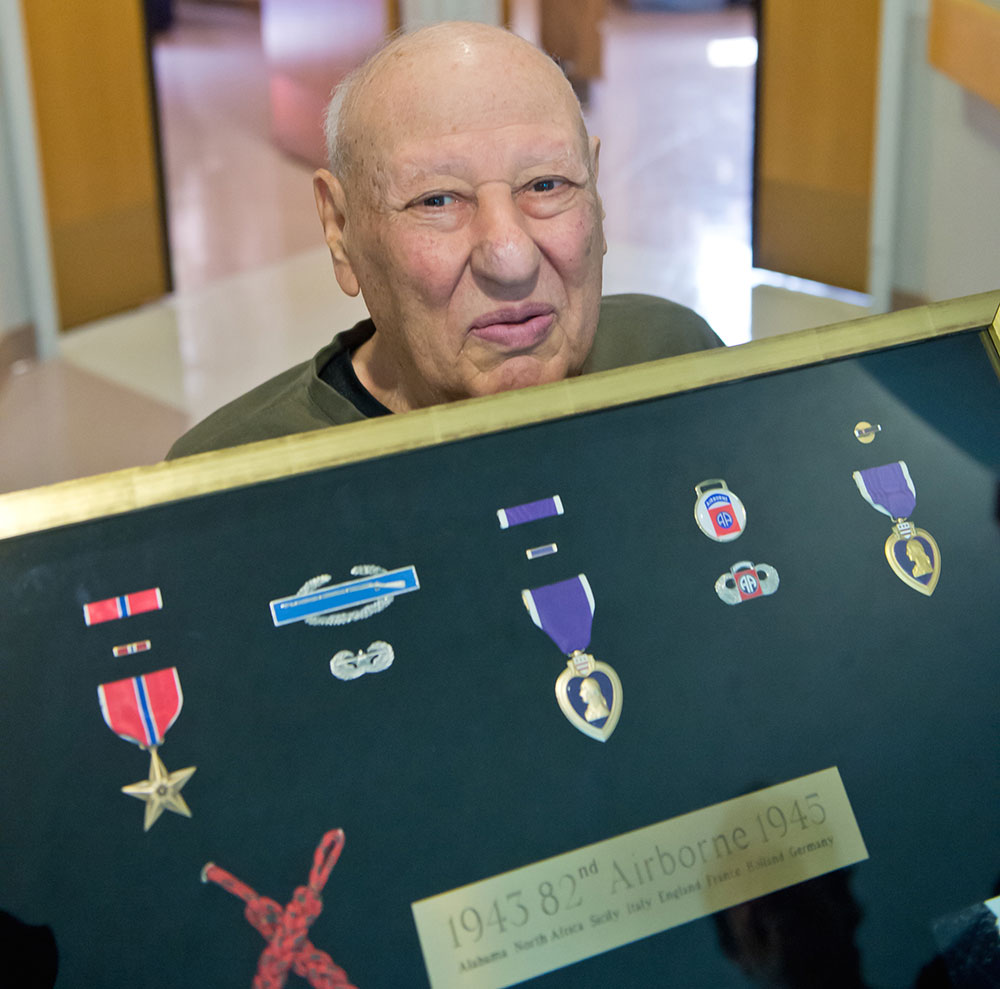 Robbin was very familiar with the Home as her late mother-in-law, Sylvia Lipton, had lived there for several years. "She was so well taken care of throughout her advanced dementia that we really didn't consider another place for my dad," she recalls. "I literally made one phone call to the Jewish Home to get the process going."
Victor's daily routine features working out in the Home's fitness center, attending current event discussions, and having physical therapy. In Omaha, he organized monthly movie nights for the people in his community, and he is now partnering with staff to do likewise at the Home, using films from his own collection. "I like to show musicals such as Hello, Dolly and Yankee Doodle Dandy because everyone can appreciate the music," he explains.
Shabbat services with the Home's Rabbi Sheldon Marder, whom Victor considers a friend, are important to both father and daughter. "I really appreciate the opportunity to share that with Dad," Robbin maintains. "It's a special time together. Afterwards, there's a Shabbat sing-along on my father's floor. That's special too. " Says Robbin with feeling: "Dad has made a pretty remarkable adjustment."