Residents of the Jewish Home enjoy a wide range of recreational, cultural, intellectual, creative, and religious activities. The Jewish Home is committed to providing each resident with quality care of body, mind, and spirit.
Dining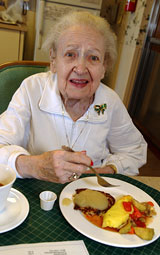 Prominent Bay Area chefs have lent their expertise to the Home, inspiring new dishes based on traditional meals. In-house dietitians plan menus, develop modified diets, and counsel residents on their nutritional needs. Kosher food is prepared under the supervision of the Home's rabbi.
As an alternative to dining on their unit, residents can lunch at the garden café, which offers a variety of dairy items for light meals or snacks. Located by a tranquil garden patio and fountain, the café is a central gathering spot for residents, families, volunteers, staff, and visitors.
Special menus commemorate holidays, theme days, and other festive occasions. Throughout the year, residents' birthdays are celebrated at an elegant monthly luncheon.
Activities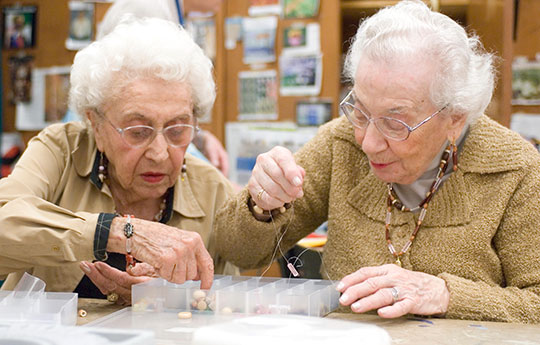 The wide-ranging program of events and activities includes discussion groups, intergenerational gatherings, a monthly resident newsletter, exercises, trivia games, the Council of Residents, musical performances, tea dances, even classes at a near-by university. Wheelchair-accessible outings to museums, films, restaurants, the opera and symphony occur regularly.
A songwriting program, drawing on inspiration as diverse as the Book of Psalms to the residents' daily lives, resulted in the release of a compact disc of original songs entitled "Island on a Hill," co-produced with top local musicians and sound engineers. This CD, as well as many of the other musical outings and opportunities for the residents, are made possible with support from the Marcus Music Fund, a named fund at the Jewish Home.
Our acclaimed creative arts program, supported by the generosity of the Maimonides Fund of the Jewish Community Endowment Fund, enables residents to express their creativity in painting, drawing, crafts, and ceramics. Resident artwork is displayed throughout the Home, and is exhibited at different Bay Area venues.
Thanks to the generosity of the George and Dorothy Saxe Family Fund, the Jewish Home has featured a Summer Arts Festival over the past seven years. Focusing on aspects of Jewish life and culture, the series – which runs from June through August – includes lectures, films, concerts, and special outings.
Other intellectual pursuits include Jewish Studies' programs conducted by Lehrhaus Judaica, a unique non-denominational adult school offering seminars and lectures on history, philosophy, sociology, theology, languages, and the arts.
Residents at the Jewish Home have many opportunities to lead active, vibrant lives.
Spiritual Life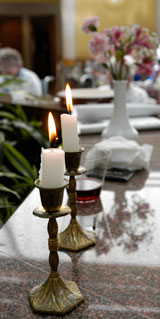 In recognition of the Home's Jewish heritage, a full-time rabbi officiates at Friday evening, Sabbath, and holiday services. Rabbi Sheldon Marder brings more than 30 years of experience in nursing homes, hospitals, colleges, temples, and social services agencies, including director of the Rabbinic School at the Hebrew Union College in Los Angeles.
Through an extensive program of services, classes, and one-on-one counseling, the Home seeks to expand the residents' opportunities for spiritual reflection and inner healing.