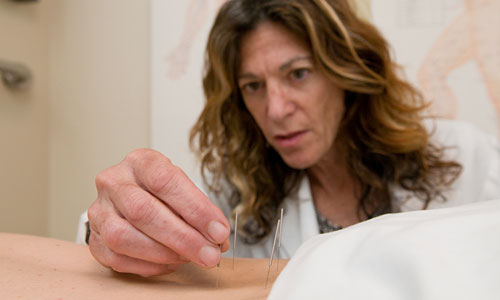 Kaylah Sterling, the Home's director of Integrative Medicine, delivers pain relief with the focused placement of acupuncture needles.
Acupuncture and Chinese medicine have been used as a healing art for over 2,500 years. In the west, treating identifiable pathophysiological conditions with acupuncture was quite rare until President Richard Nixon's visit to China in 1972. Since then, there has been an enormous increase in the use of acupuncture in both the United States and Europe. The National Institutes of Health recognized acupuncture's efficacy in November 1997.
The general theory is that there are patterns of energy flow called qi throughout the body which are related to the organs and tendinomuscular system, and which are essential for health. When the energy flow is disrupted due to trauma, aging, poor diet, medications or stress, the results are pain, illness or disease. Acupuncture focuses on correcting these imbalances by inserting ultra-thin needles under the skin to stimulate specific points on the body. Stimulation unblocks the channels and encourages an even flow of qi. This restores the body's balance, thus relieving pain and other symptoms.
Acupuncture and Chinese Medicine are commonly used to treat the following conditions: allergies/asthma; anxiety/depression; arthritis; neck, knee, shoulder, back/sciatica pain; bladder/kidney problems; constipation/diarrhea; dizziness; fatigue; gastrointestinal/gynecological disorders; headaches; heart problems/palpitations; high/low blood pressure; paralysis; skin issues. Persons receiving end-of-life care benefit greatly from these modalities.
Also offered as a complement to traditional medical care is Healing Touch, an energy-based therapeutic approach to healing that uses gentle, non-invasive hands-on touch and energy techniques to balance and align the human energy field. Benefits include the achievement of deep relaxation and a reprieve from stress, the relief of anxiety and depression, a decrease in pain, a stronger immune system, support during life transitions, medical treatments and end-of-life care, ease of acute and chronic conditions, and the enhancement of one's sense of well-being.