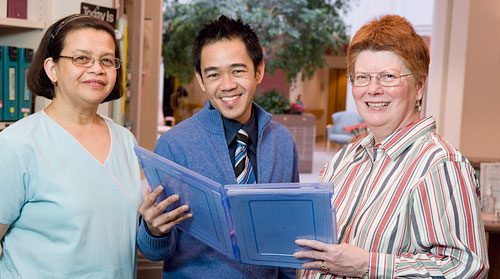 From the chief nursing officer, through assistant directors of nursing, registered nurses, nurse managers, licensed vocational nurses to certified nursing assistants, the goal is to provide residents with the highest standards of care.
Physicians are at the Home daily, and are on call 24-hours a day. All medical staff are geriatric specialists, working under the supervision of an on-site full-time  medical director. The medical staff is complemented by Nursing, which employs more than 400 RNs, LVNs, nurse managers and supervisors, and certified nursing assistants.
The Jewish Home's Nursing department aims to enhance the residents' independence and well-being by promoting their optimal level of functioning, and by developing supportive, caring interactions within a professional context.
As part of the interdisciplinary team identifying and addressing the individual needs of each resident, the nursing staff coordinates and implements the plan of care requirements.
Nursing provides gerontological education to staff through orientation programming, staff development, and clinical consultations. Courses cover advanced gerontological approaches to health care.
Medical Staff:
Attending Physicians
Elaine Gecht, M.D.
Michael Gellman, M.D.
Edwin Hassid, M.D.
Avi Hettena, M.D.
Dina Leykina, M.D.
Thato Nteso, M.D.
Hector Santiestiban, M.D.
Elliott Stein, M.D.
Bennett G. Zier, M.D.
Nursing Staff:
Assistant Directors of Nursing
Zenaida Cura, RN, Long-term care
Florence Huffana, RN, Short-term care (STARS)