Social Services
Social Services provides services to Jewish Home residents and family members, with the goal of promoting the highest possible level of residents' dignity, independence, and emotional functioning. The components of the department are in-house social work services, translation services, and outreach to the professional community.
The department also actively networks with social services agencies in the community, in order to learn of innovative programs of benefit to our residents.
Activities
The Activities program is designed to promote the physical, social, and mental well-being of each resident. Both group and individual activities take place on each floor, and in the common areas of the Home.
The wide-ranging program of events and activities includes discussion groups, intergenerational gatherings, a regular resident newsletter, exercises, trivia games, the Council of Residents, musical performances, and classes on Jewish art, literature, and poetry. Wheelchair-accessible outings to museums, films, restaurants, and the theater occur regularly.
Residents at the Jewish Home have many opportunities to lead active, vibrant lives.
Spiritual Life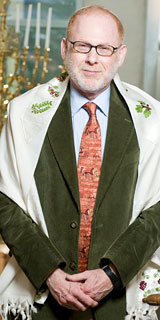 "Cast me not off in time of old age, when my strength faileth, forsake me not."
- Psalm 71:9
The Jewish Home provides many occasions to share Jewish life through special celebrations and observances – from candle-lighting during Chanukah and Seders at Passover, to preparing residents for b'nai mitzvah.
A full-time rabbi officiates at Friday, Sabbath, and holiday services. Rabbi Sheldon Marder brings over 30 years of experience in nursing homes, hospitals, colleges, temples, and social services agencies, including director of the Rabbinic School at the Hebrew Union College in Los Angeles.
Through an extensive program of services, classes, and one-on-one counseling, the Home's rabbi seeks to expand the residents' opportunities for reflection and inner healing.