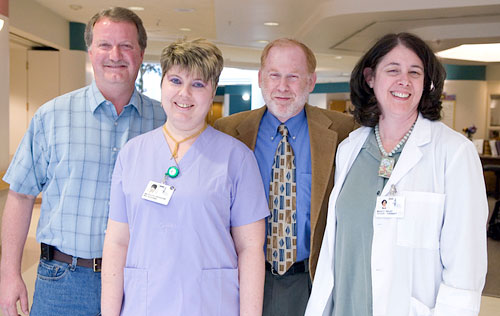 Nursing care is complemented by extensive interdisciplinary methodologies.
Pain Management Team
Activities staff, nursing staff, social workers, and clergy all work closely with the nursing and medical staff to provide a comprehensive plan toward minimizing pain and maximizing function. Our geriatric medicine physician specialists have additional training in pain management and the management of the side-effects of pain medication. An additional and alternative method to treat pain and offer relief is Healing Touch, an energy-based therapeutic approach.
Fall Round Team
Our multidisciplinary team – comprised of a geriatric medicine physician specialist, nurses, and physical therapists – evaluates every resident who falls. Additional information is obtained from podiatrists, ophthalmologists, and other specialists as needed.
Skin Team
All our residents are evaluated for risk of skin breakdown, and preventative measures are taken based on risk. Our Skin Team keeps track of all skin breakdowns, and meets and evaluates wounds on a weekly basis. The team comprises a geriatric medicine physician specialist, a nursing wound specialist, a dietitian, primary care nurses, nurses' aides, and where indicated, a podiatrist.
Anticoagulation Team
Many foods and drugs have the potential to interact with blood thinners, and it is therefore necessary to monitor blood tests very carefully for residents on this type of medication. Our Anticoagulation Team, which includes a physician's assistant, a nurse practitioner, and a pharmacist, assists the residents' primary care physicians in monitoring blood thinners.
Care Plan Meetings
These meetings are held two weeks after admission to the Home, and on a quarterly basis thereafter. The patient care plan meeting is attended by members of a multidisciplinary team, which includes the departments of Nursing, Social Services, and Recreational Activities. Other disciplines, such as Nutritional Services, Pharmacy, and Rehabilitation Services may also participate. With input from the resident and family, the multidisciplinary team reviews the plan of care, thus ensuring that the resident's care needs are being met through the most appropriate treatments and interventions.
Quality Assurance and Improvement
The program provides for the ongoing monitoring of important aspects of care and service to residents, and also identifies and addresses opportunities for improvement. Clinical and ancillary departments participate in the program.
End-of-Life Care Program
Our end-of-life care program is a collaborative effort to learn about and respect the preferences of our residents and their families, and to provide as comfortable and dignified a final period of life as possible.
We avoid treatments with uncomfortable side-effects that will have little chance of prolonging a dignified life, while emphasizing treatments and approaches that maximize comfort and satisfaction. Our nursing, medical, pharmacy, activity, dietary, and social work staff all participate in our efforts to improve life rather than prolong death.
Kol Haneshama: Jewish End-of-Life Care is a program of volunteer and staff training that the Home co-sponsors with the Bay Area Jewish Healing Center in partnership with the Zen Hospice Project, a nationally recognized innovator in the training of volunteers for end-of-life care. On-going training for this award-winning program involves volunteers, Jewish Home employees, and community members. Numerous families have benefited from knowing that their loved one formed a close relationship as they approached the end of their life.
While Kol Haneshama is for those in their final weeks, months or even years of life, No One Dies Alone is a program that ensures residents and patients have someone at their side during their final hours. As it is not always possible for a family member to be present, or the person may not have family, nursing staff, who have been specifically trained for the program, step in to give just what is needed – conversation, the person's favorite music, or simply their presence.