More than 100 attendees – made up of local leaders, benefactors and community members – marked the October 19 ceremonial groundbreaking of the Jewish Home's $145-million modernization project.
The Helen Diller Family Foundation's extraordinarily generous $3 million grant will help beautify the Home's redeveloped campus with the addition of two parkettes and new landscaping.
In both practical measures – smaller, more intimate and homelike living spaces – and a number of cutting-edge research projects – including the use of technology to support people living in their own homes for as long as possible – the Jewish Home is directing new trends in Alzheimer's care.
Read all about it! This week's cover story in J. takes the measure of The Square – and much more. It all forms part of the Jewish Home's transformational project and redevelopment of our campus. Thanks in large part to the wonderful support of our dedicated donors and philanthropists, this visionary undertaking will enable the Home serve thousands of Bay Area seniors, as well as their families and caregivers – on and beyond our campus – so that all may grow and flourish.
The Jewish Home of San Francisco recently welcomed representatives from the Jewish Home of Sofia, Bulgaria, giving the visitors a three-day tour of the Home and offering ways for the Bulgarian facility to enhance their programming, policies and revenue – all with the goal of attaining sustainability.
j. weekly / September 25, 2015
The August 29 b'not mitzvah of twins Anna and Olivia Perlman was a genuine coming together of all ages for this coming-of-age ceremony. It broke new ground as the first event of its kind to be held in the 144-plus year history of the Jewish Home of San Francisco. While the Home has hosted b'nai mitzvah in the past, this time the participants were 13-year-olds, not adults.
The Jewish Home and Mission Bay Community Church come together to sponsor the Excelsior Community Food Pantry, thus ensuring that the good work continues and making sure that no one goes hungry.
Distinct part nursing homes brace for double, and devastating, cuts to Medi-Cal reimbursements
San Francisco Chronicle (paywall) / June 24, 2013
Looming Medi-Cal cuts threaten doctors, pharmacists, hospitals and clinics, but operators of nursing homes attached to hospitals - including two of the state's largest in San Francisco, the Jewish Home and Laguna Honda - say they bear the biggest brunt of reductions to the public health program covering the state's most vulnerable.
Medi-Cal cuts will have a dramatic impact on the Jewish Home, challenging the future of this community treasure
KTVU Channel 2 News / April 24, 2013
Jewish Home CEO and president Daniel Ruth explains to KTVU's Ken Pritchett what slashing Medi-Cal reimbursements will mean for the Jewish Home. But the cuts do not just reduce future income; they are also retroactive to 2011. Family member Paul Lubitz and his father, a resident of the Home, talk about the profound impact this will have on lives and on all of California's distinct part skilled nursing industry.
New law threatens to eliminate the fragile safety net for California's frail elders who depend on Medi-Cal
Massive Medi-Cal cuts to 100 nursing homes in California – including what some say will be a multi-million-dollar hit to the Jewish Home – is the focus of j. weekly's cover story. This critically important issue is also covered in j.'s editorial.
Chopsticks, shtick, and charity
Kung Pao Kosher Comedy – Lisa Geduldig's series of Jewish comedy shows at a Chinatown restaurant – celebrates its 20th anniversary this year. Many nonprofits benefit from Kung Pao proceeds. Mark Friedlander, the Jewish Home's assistant administrator, salutes Geduldig for making the Home's Esther Weintraub Comedy Clinic a past beneficiary of her largesse and an ongoing source of healthful laughter for the facility's residents.
Hiatus on long-term care admissions lifted
"While [the Jewish Home] is going to evolve and change, we're an important resource for this Jewish community," notes the Home's president and CEO, Daniel Ruth, as he shares the good news about the resumption of long-term care admissions to this 140-plus year facility.
Appreciating the benefits of healthspan as contrasted with longevity
The FASEB Journal / August 2011
An internationally renowned leader in the field of immunology, Dr. Edward Goetzl, UCSF professor emeritus, joined the Jewish Home's Center for Research on Aging in 2011 to devote his time to translating laboratory findings into therapies to correct the age-related deficits in immune function in older people. Dr. Goetzl's editorial Is Aging a Drug Target? appeared in the August 2011 issue of The FASEB Journal. FASEB (Federation of American Societies for Experimental Biology) is the nation's largest coalition of biomedical researchers, representing 24 scientific societies and over 100,000 researchers from around the world. FASEB is now recognized as the policy voice of biological and biomedical researchers.
Notes Dr. Goetzl in his editorial: "Results of ongoing studies of human aging suggest that the primary pharmacological research strategy should be identification of abnormalities distinctive for aging and where remediation will minimize morbidity and optimize healthspan." To read the full article, go to http://www.fasebj.org/content/25/8/2509.full
Views and news fit to print
AtHome, the Jewish Home's monthly newsletter by and for residents, is one of a number of publications that sees the light of print in this article, as residents of senior living facilities around the Bay Area and staff talk about their journalistic endeavors.
Jewish high school students boost Jewish Home's show
After reading a feature in an issue of j. about the Jewish Home's annual Chanukah show, students from the Jewish Community High School of the Bay decided to take part – adding to the high school-themed production with pep rally cries, and more, and performing community service by assisting the resident stars.
Proposal to narrow the state's budget deficit could have lower-cost solutions being replaced with higher-cost options
Daniel Ruth, Jewish Home president and CEO, weighs in on the effects Governor Jerry Brown's proposal to cut $1.7 billion from Medi-Cal could have on skilled nursing reimbursement to the Home as well as on healthcare programs throughout California.
Jewish Home residents gear up (and suit up) for their annual Chanukah show
Titled Simchat ("rejoice"), residents and staff of the Jewish Home are getting ready to perform their spoof on the hit TV show Glee. Songs are being rehearsed, cheerleaders – suited up in their purple tracksuits – are practicing their pom-pom flourishes, and solo performers are honing their pieces. It is an event they are eager to share with both community and fellow residents.
Agencies breathe easier after Medicaid funding extended
As a facility that derives about 85 percent of its revenue from state reimbursements, Daniel Ruth, the Jewish Home's president and CEO, is pleased that President Obama signed a bill that extends the Federal Medical Assistance Percentage, which provides funds to state Medicaid (or MediCal, as it is known in California) programs. When it comes to MediCal payments, however, "[there is still] a lack of clarity as to how programs and services will be organized, delivered and funded in the years ahead," notes Ruth. "[The Jewish Home] cannot afford to deliver services the way we've been doing it based on current reimbursement frameworks."
Consideration and respect define seven-decade marriage for the Chans
San Francisco Chronicle / August 15, 2010
Having known one another since they were teenagers, centenarian William Chan really missed Cora, his wife of 76 years, when she moved into the Jewish Home in 2008. He was therefore happy to become a resident of the Home a couple months thereafter, where this devoted couple continue to enjoy the company of good children, good friends, and reminisce about good experiences in their long and interesting lives.
Heart and humor
Local comedian and producer of Kung Pao Kosher Comedy Lisa Geduldig pays a cinematic tribute to fellow comedian and past resident of the Jewish Home Esther Weintraub in her acclaimed film, Esther & Me.
Jewish Home artist proceeds to once again raise proceeds for Parkinson's
The creative works of resident artist Deborah Friend went on sale at the Jewish Home's annual Chanukah art sale (which featured artwork by other talented resident artists, too), with the proceeds going to the Michael J. Fox Foundation.
Award-winning program now in print
Songwriting Works at the Jewish Home, an award-winning program founded by singer/songwriter Judith-Kate Friedman, has earned a chapter in a new book, Transforming the Healthcare Experience Through the Arts, an inspiring and captivating compendium of exemplary healthcare art programs and projects.
NIH Challenge Grant awarded to Jewish Home of San Francisco
Almost 20,000 applications were received for the 229 National Institutes of Health (NIH) challenge grants in health and science research, being funded through the American Recovery and Reinvestment Act (ARRA). And one of them was awarded to Dr. Janice Schwartz, research director at the Jewish Home of San Francisco and clinical professor of medicine and pharmaceutical sciences at the University of California, San Francisco (UCSF), and her co-investigator, Dr. Michael Steinman, of UCSF's division of geriatrics. They will receive two years of support totaling almost $900,000 to address the problems associated with the use of medications in older Americans with multiple medical disorders.
STARS prescription
Getting patients back on their feet and back to their prior level of functioning is the aim of the Jewish Home's short-term and rehabilitation services program. Following a transitional care model, where active communication is maintained between STARS, the patient's hospital and the patient's personal physician, the interdisciplinary team strives to achieve this goal.
Healing body and soul
She was initially a patient at the Jewish Home of San Francisco's STARS unit (short-term and rehabilitation services) because of a broken wrist, but "now I have a healed soul," says Audrey Eichorn, who converted to Judaism in a ceremony at the Home's synagogue.
Kohn interns explore working in the Jewish community
For Kohn summer intern Abby Cohen, being at the Jewish Home has been a reflective experience. It has also given her a perspective on life, and to see what it takes to run this kind of facility.
For both volunteers and recipients of the program, Kol Haneshama is a blessing
A unique end-of-life care program, Kol Haneshama pairs Jewish Home residents who are near death or at the beginning of their decline, or who may feel lonely and afraid as they age, with "spiritual care partners" – volunteers who visit once or twice a week until the end comes.
State budget cuts hit hard
Millions of dollars in state funding cuts – largely from Medi-Cal reimbursements – will adversely impact the Jewish Home. Daniel Ruth, the Home's president and CEO, is hopeful that the community will come through with additional support for the Home so that it can continue its ability to be charitable.
'Home' movies
Thanks to a relatively new program entitled "The San Francisco Jewish Film Festival Presents" residents of the Jewish Home get to watch critically acclaimed and prizewinning dramas and documentaries once a month in the comfort of their own 'Home.'
No easy answers to complex issues
Sherie Koshover, Jewish Home's director of Corporate Planning, responds to Governor Arnold Schwarzenegger's signing of the most overdue budget in California history and the impact of the state's budget on the Home.
State's budget issues affect those in need, and those who serve them
President & CEO Daniel Ruth, and a number of other Jewish agencies, discuss the state's current financial crisis and how they are responding to, and dealing with, cuts in funds, as well as potentially losing millions in any future funding.
Nina Weil has the golden (healing) touch
Jewish Home volunteer Nina Weil and the Home's Healing Touch program receives Outstanding Program Award.
A mitzvah – at any age
It is not unusual for friends to celebrate their bat mitzvahs a few months apart. But it is special when the one is 69-year-old Jewish Home resident Rachel Alhadeff and the other is seventh-grader Adi Alouf, Rachel's Hebrew tutor and Jewish Home volunteer.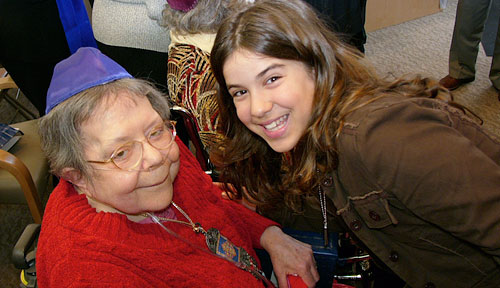 Resident Rachel Alhadeff and tutor Adi Alouf at Rachel's bat mitzvah.
From living a nightmare to realizing a dream
At the age of 14, Edward Ben-Eliezer felt compelled to join the Baghdad branch of the Haganah, Israel's pre-state army. Now resident at the Jewish Home, Ben-Eliezer recounts his experiences, including his escape into Iran and his safe arrival in Israel at the birth of the State.
Judy Freespirit concentrates on transforming open attitude into open practice
When it comes to LGBT matters, the Jewish Home is ahead of the curve among Jewish senior agencies. With the support and in partnership with Jewish Home staff, resident and activist Judy Freespirit is focusing on making the Home as gay-friendly as possible.
Recognizing worth
The Jewish Home's Rabbi Sheldon Marder will receive the Association of Jewish Aging Services "Mentor of the Year" award at the group's annual conference in Washington, D.C., in March. The Home's Kol Haneshama program, which trains people to provide end-of-life services to residents and their families, will also be recognized.
A family tradition of service
When Mark Myers assumed the position of board chair in October 2007, he became the third father-son duo to serve in this role.
100-year-old has the opportunity to honor life-long relationship to Judaism
Jewish Home resident Doris Sperber will stand on the bimah, recite an aliyah, deliver a drash, and become a bat mitzvah – an event she has dreamed of for nearly a century.
Elders make a profound commitment
Jewish Home's septuagenarian and octogenarians celebrate a rite of passage usually undertaken by Jewish teenagers, and conclude their year-long study by achieving their dreams.