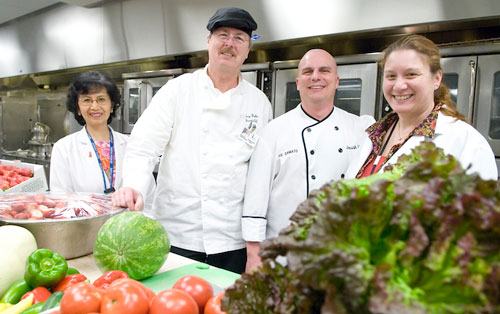 Nutritional Services know how to make food that is good for one taste good, too. Their matzah ball soup gets a high rating!
Nutritional concerns are addressed by the clinical nutrition team, which meets regularly with each resident. Collaboration with physicians and nursing staff ensures that nutritional needs are met, while residents' visits by the clinical dietitian make sure they are getting the food they prefer.
Menus are planned by the Home's executive chef and clinical team, with input from residents and staff. The menus are reviewed by the clinical nutritional manager for nutritional adequacy and compliance with physicians' orders. Meal preparations follow kosher food guidelines and, under the supervision of the Home's rabbi, accord with kosher dietary laws. Regular open Food Forum meetings provide the opportunity for residents, the chef, and the director of Nutritional Services to discuss meal concerns and menu suggestions.